Spiritual Care & Education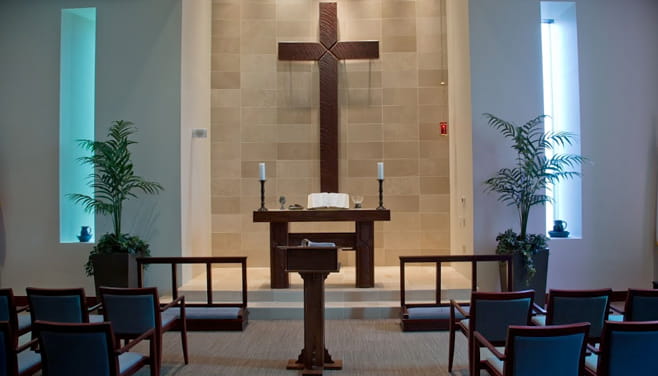 Houston Methodist Willowbrook Hospital is committed to providing the finest spiritual care to our patients, their families and friends, our staff, and everyone else who enters our hospital doors. We provide compassionate support for people of all backgrounds, coupled with respect for the sanctity and dignity of human life. We believe all people have sacred worth and value, created by God.
Our mission is to cultivate an atmosphere of caring, healing, hope, and reconciliation in which all feel included, and all might, if they desire, experience the presence of God in their lives in a way that meets their individual needs. The Department is staffed by chaplains who are ordained, endorsed, and certified per Houston Methodist and professional chaplain organization standards. We offer pastoral support, sacramental ministry, and spiritual guidance.
Hours of Operation and Office Telephone Number
Our office is open Monday through Friday from 8 a.m. to 5 p.m. We also have chaplains available on-call in the evenings and throughout the weekend for critical needs. The office telephone number is 281-737-1353.
Locations of the Chapel, the Chaplains' Office, and the Muslim Prayer Room
Our facilities are located on the first floor of the hospital.
From the North Pavilion: After you enter the North Pavilion main entrance, turn left into the large corridor. The first facility you will see is The Muslim Prayer Room—Room 1411 on the left side of the corridor. The Chaplains' Offices are in Suite 1414, the next doorway on the left side of the corridor. The Chapel is in Room 1415.02, also on the left side at the end of the corridor.
From the Women's and Children's Pavilion: Look for the large corridor that leads to the North Pavilion. You will go past the Cafeteria, which will be on your left. As you get to the end of the corridor and begin to turn left, The Chapel—Room 1415.02, will be immediately in front of you on the right side of the corridor. The Chaplains' Offices are in Suite 1414, the next doorway on the right side of the corridor. The Muslim Prayer Room is in Room 1411, immediately after the Chaplains' Offices.


Our Team
Director of Spiritual Care & Values Integration: Chaplain Michael D. Tarvin, MDiv, BCC
281-737-2473
Administrative Assistant, Krystal M. Foy, 281-737-1353
Senior Chaplain Joy Cabrera, MDiv, BCC, 281-737-1351
Chaplain Albert A. Kemp, MDiv, BCC, 281-737-1350
Chaplain Ernest Saldivar, MDiv, BCC, 281-737-5131
Chaplain Roger Girdwood, MDiv, 281-737-1353
PRN Chaplain Patrick Robinson, Sr., M.A., 281-737-1353
PRN Chaplain Franklin Moore, D.Min, 281-737-1353

Prayer Request Cards
We appreciate the opportunity to pray for anyone who requests it. To facilitate this process, we have Prayer Request Cards available in a dispenser near the North Pavilion elevators on every floor. We collect these Prayer Request Cards and pray for each one of them on a daily basis.

Bibles
Unused Bibles are available through our office. They are provided free by the Gideons. English and Spanish Bibles are available for patients, guests, and staff.

Spiritual Care Availability
Our Chaplains are here for the entire hospital. We make regular visits to just about every area of the hospital throughout the day. We are also happy to take specific requests for a visit by a chaplain. For patients, a Spiritual Care patient consult request can be filled out by staff requesting a specific visit. Please let the nurse know your request, and they will forward it to the Spiritual Care offices. Staff members can also request a chaplain visit for any reason. We are here to serve everyone.
Pre-surgery Prayers
In particular, many patients like to have pre-surgery prayers. Just let your nurse in the Pre-Surgery area know of your desire for a pre-surgery prayer, and a chaplain will be happy to take care of that for you.

Weekly Healing Service
A non-denominational Healing Service is held each Tuesday from 12:00 noon until 1:00 p.m. Prayers are offered for all requests.
Catholic Services
Each Thursday at 12:00 noon, Holy Mass will be celebrated in the chapel. These services are staffed by the Prince of Peace Catholic Community parish. (If a priest is not available, a deacon will offer a service of the Liturgy of the Word with Distribution of Holy Communion.)
We are blessed to be located in the Prince of Peace Catholic Community parish. We have many volunteer Eucharistic Ministers throughout the week. We also have a Catholic staff chaplain. All of them are able to offer Catholic Holy Communion, and make rounds throughout the hospital. We do not have our own priest. If you would like to help ensure a particular room or person is able to partake of Holy Communion, please ask your nurse to contact us with a request for a Spiritual Care Consult.
Anointing and/or Confession: For these sacraments, the quickest route is for a person to directly contact their own parish priest. As noted immediately above, we do not have our own priest at the hospital. In an emergency, we are authorized to call Prince of Peace. They are very responsive to our requests. We must always keep in mind that just like any parish, the Prince of Peace priests can get somewhat "overloaded" from time to time, so wait times can vary.
Other requests
If you have a spiritual or emotional need or request, please let us know. We will do our best to either meet your need ourselves, or bring in the right resource to meet your needs. Just let us know.


ICARE Values
We are committed to the core values of Houston Methodist Hospital: Integrity, Compassion, Accountability, Respect, and Excellence. One key part of our mission is to serve each person in a spiritual environment of caring.