Spiritual Care & Education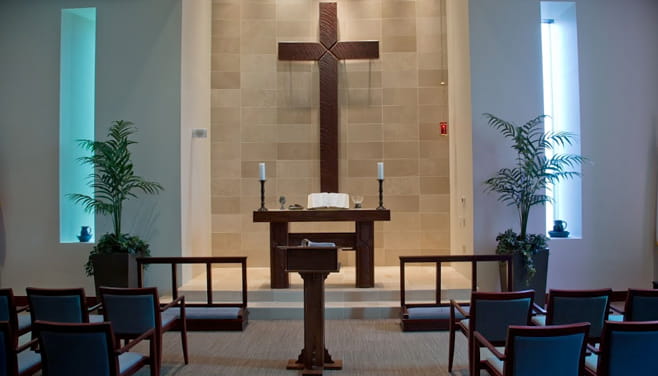 Houston Methodist Willowbrook Hospital is committed to providing the finest spiritual care to our patients, their families and friends, our staff, and everyone else who enters our hospital doors. We provide compassionate support for people of all backgrounds, coupled with respect for the sanctity and dignity of human life. We believe all people have sacred worth and value, created by God.
Our mission is to cultivate an atmosphere of caring, healing, hope, and reconciliation in which all feel included, and all might, if they desire, experience the presence of God in their lives in a way that meets their individual needs. The Department is staffed by chaplains who are ordained, endorsed, and certified per Houston Methodist and professional chaplain organization standards. We offer pastoral support, sacramental ministry, and spiritual guidance.
Hours of Operation and Office Telephone Number
Our office is open Monday through Friday from 8:00 am to 4:00 pm. We also have chaplains available on-call in the evenings and throughout the weekend for critical needs. The office telephone number is 281-737-1353.
Locations of the Chapel, the Chaplains' Office, and the Muslim Prayer Room
Our facilities are located in the North Pavilion on the first floor of the hospital.
From the North Pavilion: After you enter the North Pavilion main entrance, turn left into the large corridor. The first facility you will see is The Muslim Prayer Room—Room 1411 on the left side of the corridor. The Chaplains' Offices are in Suite 1414, the next doorway on the left side of the corridor. The Chapel is in Room 1415.02, also on the left side at the end of the corridor.
From the Women's and Children's Pavilion: Look for the large corridor that leads to the North Pavilion. You will go past the Cafeteria, which will be on your left. As you get to the end of the corridor and begin to turn left, The Chapel—Room 1415.02, will be immediately in front of you on the right side of the corridor. The Chaplains' Offices are in Suite 1414, the next doorway on the right side of the corridor. The Muslim Prayer Room is in Room 1411, immediately on the right, after the Chaplains' Offices.


Our Team
Director, Chaplain Albert A. Kemp, M.Div., BCC, 281-737-2473
Operational Project Analyst, Krystal M. Bean, B.A., 281-737-1353
Senior Chaplain Joy Cabrera, M.Div., BCC
Chaplain John Neesley, Ph.D., BCC
Chaplain Phillip Allen, MHMS, PBCC
Chaplain Ayo Efodigbue, Ph.D.
Chaplain Shawn Edwards, M.Div., BCC
Chaplain James Castille, LBSW, M.A., D.D, PBCC
Chaplain Melissha Hill, M.Div., BCC
Chaplain Resident Debbie Hinton, M.Div.
Chaplain Resident Teresa Grattic, M.A., M.Div.
Chaplain Intern Antonio Loreto, M.Div.
To reach any of our chaplains, please call 281-737-1353

Prayer Requests
We appreciate and look forward for the opportunity to pray for anyone who requests it. To facilitate this process, we invite you to text "PRAYER" to 45991 to submit your prayer requests and a chaplain will be in touch with you. All requests are confidential.

Bibles and other Spiritual Care Items
Unused Bibles are available through our office. They are provided free by the Gideons. English and Spanish Bibles translations are available for patients, guests, and staff. We also offer the Quran for our Islam patients and the Torah for our Jewish patients. Rosaries are available for our Roman Catholic patients and their families.

Spiritual Care Availability
Our Chaplains are here for the entire hospital. We make regular visits to just about every area of the hospital throughout the day. We are also happy to take specific requests for a visit by a chaplain. For patients, a Spiritual Care patient consult request can be filled out by staff requesting a specific visit or call the operator on any phone and ask for the Spiritual Care Office or please let the nurse know your request, and they will forward it to the Spiritual Care office. Staff members can also request a chaplain visit for any reason. We are here to serve everyone.
Pre-surgery Prayers
Many patients prefer to have prayer before their surgery. Just let your nurse know of your desire for a pre-surgical prayer, and a chaplain will be delighted to come and pray with you before your surgery.

Advanced Directives
Houston Methodist encourages our patients to complete Advance Directives and to participate in their own health care decisions. You can come by the Spiritual Care office and get assistance completing your "Medical Power of Attorney" and/or "Directive to Physician" Monday through Friday, between the hours of 8:00 am and 4:00 pm.
ICARE Values
We are committed to the core values of Houston Methodist Hospital:
Integrity – "We are honest and ethical in all we say and do."
Compassion – "We embrace the whole person and respond to emotional, ethical, and spiritual concerns as well as physical needs."
Accountability – "We hold ourselves accountable for our actions."
Respect – "We treat every individual as a person of worth, dignity, and value."
Excellence – "We strive to be the best at what we do and a model for others to emulate."
One key part of our mission is to serve each person in a spiritual environment of caring.