Spiritual Care & Education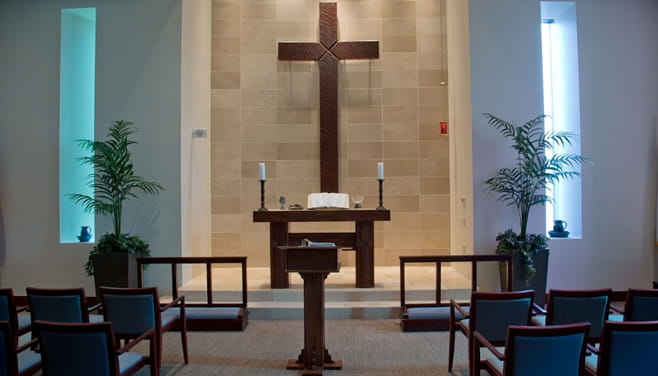 Houston Methodist Willowbrook Hospital is committed to providing the finest spiritual care with healing and compassionate support, coupled with respect for the sanctity and dignity of human life. In all endeavors we will strive to treat everyone as a person of sacred worth and value, created by God.

The mission of the Spiritual Care and Values Integration Department is to cultivate an atmosphere of caring, healing, hope and reconciliation in which patients, family members and staff might experience the presence of God. The department is staffed by a full-time chaplain who is ordained, endorsed and certified and who offers pastoral support, sacramental ministry and spiritual guidance.

Our office is open Monday through Friday from 7 a.m. to 5 p.m. If you have questions or need assistance during office hours, please contact our office at 281.737.1353. If you have special needs for chaplaincy services in the evening or on weekends, please contact nursing administration at 281.737.4747.

Our Team
Director of Spiritual Care and Values Integration Rev. Darrell Jackson, MDiv, office 281.737.2473, mobile 281.635.1389

Chaplain Joy Cabrera, office 281.737.1351, pager 713.768.1430

Chaplain Ken Archer, office 281.737.1350, mobile 832.405.0083

Hospital Chapel
The chapel is located on the first floor of the North Pavilion, off the main corridor to the left of the main entrance. The chapel is open 24/7 and is available for those who would like a place to pray or reflect.

Prayer Room
The prayer room is located in the Women's & Children's Pavilion, on the first floor of the main lobby, adjacent to the gift shop. This room is available for all faiths and for anyone looking for a place of contemplation and prayer. It is open 24/7.

Prayer Requests
Prayer request cards can be found outside the chapel and may be placed in the prayer request box. Requests are prayed for daily.

Bibles
Bibles are available through our office and are provided free by the Gideons. English and Spanish translations are available for patients, guests and staff.

Care Notes
Care Notes are available to patients, guests, families and staff and include various titles related to faith, spirituality and health care. Care Notes are available upon request in the chaplain's office adjacent to the chapel.

Bereavement Care
Our chaplains are available to meet with patients, families, guests and our staff to offer bereavement support in patient rooms and in our offices.

Worship Services
Each Wednesday in our chapel, Holy Communion is offered by one of our staff chaplains from 10 to 10:15 a.m. A priest from the Prince of Peace Catholic Community celebrates the Holy Mass every Wednesday from 12 to 12:30 p.m. Seasonal and special worship services are held in the chapel throughout the year.

I CARE
Our department is committed to our core values of Houston Methodist: integrity, compassion, accountability, respect and excellence. It is part of our mission to serve each person in a spiritual environment of caring.