about the nantz national alzheimer center


The internationally renowned, Nantz National Alzheimer Center (NNAC), created by CBS Sports commentator, Jim Nantz and Houston Methodist Hospital, conducts cutting-edge research and provides state-of-the-art training for physicians and health professionals related to Alzheimer's disease and dementing illnesses. The NNAC also provides an environment for comprehensive care of Alzheimer's patients and their families.

The NNAC is named in honor of Jim's father, Jim Nantz Jr., who died in 2008 after suffering from Alzheimer's disease for 13 years; and as a lasting tribute to his late mother, Doris, and adoring sister, Nancy for their tireless efforts as caregivers. He chose Houston Methodist Hospital because of the care his father received and because of the many distinguished physicians and forward-thinking researchers at Houston Methodist.

The NNAC is dedicated to generating increased funding and awareness leading to innovation and discovery of new diagnostics for early and accurate detection of Alzheimer's disease and related dementing diseases. In addition, the center will be devoted to finding treatments that prevent, arrest, and even reverse the ravages of these devastating diseases to ultimately find a cure one day.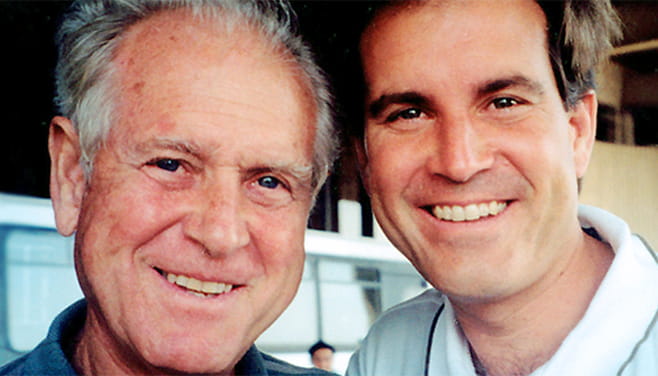 The Nantz National Alzheimer Center is named in memory of Jim's father, Jim Nantz, Jr.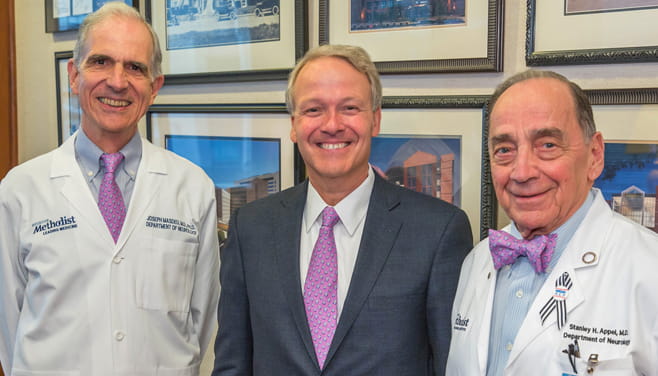 (Left to right) Dr. Joseph C. Masdeu, Dr. Marc L. Boom, president and CEO of Houston Methodist, and Dr. Stanley H. Appel.
Advancements in Alzheimer's Research

At the
Nantz National Alzheimer Center
,

our lab was the first to link excess tau protein to Alzheimer's disease brain dysfunction and to map tau progression in dementia, redefining how neurologists approach the illness. We were the first to identify how brain inflammation precedes brain degeneration. We believe
our next first
will help us find the first truly effective, personalized treatments for those suffering from this devastating disease.
Support the Nantz National Alzheimer Center

Join Jim Nantz and Houston Methodist Hospital in the fight to eradicate the suffering and devastation of Alzheimer's disease and associated dementia-based illnesses. Through philanthropic support, Houston Methodist is applying breakthroughs in neuroimaging toward strategies to better diagnose and potentially prevent or halt the progress of Alzheimer's disease at its earliest stages. Add your support along with millions of others and join the team that will fight — and win — the battle against the ravages of this disease through world-class research, education and patient care conducted at the Nantz National Alzheimer Center at Houston Methodist.

Make your gift here
.
Jim Nantz joins Golf Today and shares how he's helping people with Alzheimer's.
Learn More