Medical Weight
Management
The medical weight management program at the Houston Methodist Weight Management Center is a specialized program designed to safely jump-start your weight loss while also providing you with the tools to maintain it. Our team of medical professionals guides you through a three-phase treatment plan, beginning with rapid initial weight loss and gradually transitioning to a regular, healthy diet. This medically monitored program teaches you essential skills to achieve and maintain a healthier weight and offers ongoing personal support and education.

Program Features
Rapid weight loss of two to five pounds per week
Use of a medically formulated, low-calorie, low-carbohydrate and high-protein meal replacement beverage
Weekly medical monitoring by clinic staff
Weekly classes on lifestyle changes and nutrition led by licensed professionals

Qualifications
You must meet the following criteria to qualify for the program:
18 years or older
Body mass index (BMI) of 30 or greater

Program Phases
Each piece of the three-phase program is designed to help you achieve and maintain weight loss.

New Beginning — Rapid Weight Loss (Phase 1)
During this phase, complete daily nutrition is achieved by drinking four delicious beverages throughout the day to help you lose an average of two to five pounds per week. The beverages are available in 12 flavors: chocolate, vanilla, strawberry, pineapple-apricot, lemon, hot cocoa, chocolate pudding, vanilla pudding, mocha, chocolate with fiber, cream of chicken and cream of tomato.

In addition, weekly group sessions focus on behavior changes such as curbing emotional eating and identifying eating triggers. Participants will also attend classes that provide useful nutrition information.

My Journey — Transition to Food (Phase 2)
This phase provides a gradual transition to solid food via a guided, reduced-calorie diet to help you continue to lose weight. Weekly group sessions focus on nutrition and exercise and examine topics such as food content and metabolism. You will work one-on-one with a dietitian to support your transition.

Living I.T. — Maintenance (Phase 3)
This is an exciting time and a milestone on the weight loss journey. Participation in Living I.T. helps you maintain focus. You will continue to use tools and knowledge gained from the New Beginning and My Journey phases and also learn behavior, nutrition and exercise skills needed for continued weight loss and maintenance. Group members support each other and share strategies for success.
Visit our frequently asked questions page for more information.

Medical Weight Management Program Results
Over a five-year period from 2008 to 2013, 4,196 patients who participated in the medical weight management program lost an average of 26.8 percent of their body weight, or an average of 86.3 pounds, after one year.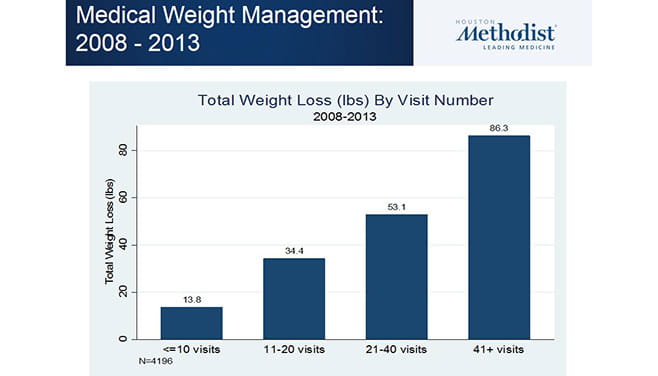 TREATMENT LOCATIONS
Houston Methodist offers the medical weight management program at the following convenient locations.