Breast Care Center at Sugar Land
The Breast Care Center at Houston Methodist Sugar Land Hospital provides the full continuum of care — from screening through treatment and survivorship — all in one place.

Our patients enjoy the following benefits:
The ability to undergo a mammogram and, if necessary, an ultrasound or MRI on the same day (pending insurance approval)
A dedicated team that communicates effectively and coordinates care efficiently, which allows our patients to begin treatment immediately
Full-time breast radiologists dedicated exclusively to breast care
A Breast Care Navigator who will help to guide you and your family through the entire process of care
State-of-the-art-technology typically found only in the nation's top academic medical centers
Melissa de Los Santos, BSN, RN, OCN — Sugar Land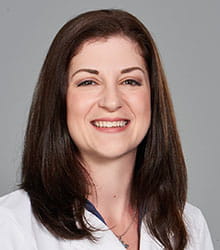 Melissa has 11 years of experience caring for cancer patients, seven as an oncology nurse. She has a bachelor of science in nursing and is an oncology-certified nurse. As an oncology nurse navigator for breast and gynecologic cancers at Houston Methodist Cancer Center at Sugar Land, Melissa focuses on educating patients about their diagnosis, advocating for individuals undergoing cancer treatments, helping patients make timely decisions about treatment, providing assistance with scheduling, and coordinating with the doctors involved. Contact Melissa at 281.276.8989.
Houston Methodist Sugar Land Hospital
Breast Care Center
16655 Southwest Frwy.
Sugar Land, TX 77479
281.242.PINK (7465)