Partnering to Enhance Health Care

The coronavirus disease 2019 (COVID-19) outbreak is a rapidly evolving situation, but we're prepared for cases in the Houston area. As our valued partner, we want you to be prepared too. Here you'll find resources on how the virus is spread, who's at risk, how to protect your workforce and more.


Houston Methodist sets the standard for excellence by providing world-renowned, customized, coordinated care for employees of Spring ISD. As a Spring ISD employee, you have preferred access to Houston Methodist's seven hospitals, as well as its diagnostic, outpatient, emergency care and orthopedic and sports rehabilitation centers whenever you need them. An exclusive telephone number puts you in direct contact with our specialty referral experts, who can offer guidance to the correct physicians. Contact your dedicated liaison at 844.349.4264 for more information. Our liaisons are ready to help you Monday - Friday, 8 - 5.


PRIMARY CARE
Houston Methodist's specially trained primary care doctors are nationally recognized for providing outstanding care. Our physicians promote health and wellness as they treat a variety of medical problems for patients of all ages. We manage our patients' health and wellness by:
Recommending preventive care and exams
Treating existing conditions
Referring you to specialists and facilities for advanced tests or treatment
Coordinating your care and addressing your questions and concerns to ensure you receive high-quality care and service
Premium access guarantees employees:
Extended clinic hours
Priority appointments within 2 business days
Telephone access to nurse practitioners


Call your dedicated liaison at
844.349.4264
to find a primary care physician or for more information. Our liaisons are ready to help you Monday - Friday, 8 - 5.
CUSTOMIZED SOLUTIONS
Our customized solutions are built on five pivotal foundations:
Customized patient access solutions
Concierge patient access
Corporate wellness services
Corporate athletic training services
Facilitated virtual second opinions
To learn more about your options call your dedicated liaison at
844.349.4264
.
Why Houston Methodist
At Houston Methodist, we understand patients have a choice in health care providers. Over the last 95 years we've transformed from a modest 19-bed community hospital to a global leader in health care, treating thousands of patients from all 50 states and more than 90 countries annually. Our team of specialists is devoted to the highest level of care for our patients. Our excellence in complex specialty care is one of the reasons why we're nationally ranked in 11 specialties by U.S. News & World Report, as well as the number one hospital in Texas and number one in the Houston area.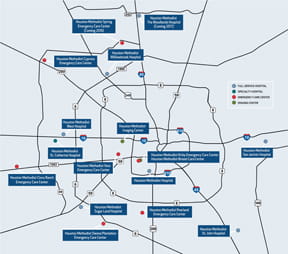 We have hospitals conveniently located throughout the Greater Houston area and
more than 100 primary and specialty care office locations to support your employees near their homes or offices.
Houston Methodist Hospital
Houston Methodist The Woodlands Hospital
Houston Methodist Clear Lake Hospital
Houston Methodist Baytown Hospital
Houston Methodist Sugar Land Hospital
Houston Methodist West Hospital
Houston Methodist Willowbrook Hospital