Houston Methodist Sugar Land offers advanced treatment for nonhealing wounds
Sugar Land - April 24, 2018
Sugar Land - April 24, 2018
For people living with diabetes, even the smallest scrape can lead to potentially dangerous circumstances. High blood sugar can damage nerves, which may cause numbness in the feet and legs, and lead to a narrowing and hardening of blood vessels, which can result in less oxygen being circulated throughout the body to aid in healing.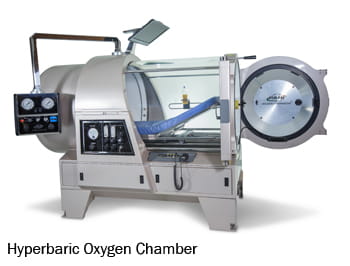 If you have a wound that doesn't heal properly, early treatment can help you get back on your feet. The Houston Methodist Wound Care Program at Sugar Land uses a multidisciplinary approach for treating wounds that won't heal.
DIABETIC FOOT WOUNDS
Timothy Oppermann, M.D., board-certified surgeon with Houston Methodist Surgical Associates, encourages patients to take a proactive approach. "Diabetes accounts for about 60 percent of lower limb amputations not related to injury in adults, clearly illustrating the importance for diabetic patients to closely monitor their health and take quick action to provide the proper care to even the smallest wound, particularly in the feet," Oppermann said.
Warning signs of a chronic, nonhealing wound include:
Persistent pain in the area around the wound
Discoloration of the wound's edges
Increased drainage from the wound site
Redness or swelling around or spreading away from the wound
HYPERBARIC OXYGEN THERAPY
The program's doctors and nurses are certified in wound care medicine, and work with patients and their primary care team to monitor, manage and treat wounds with the most advanced treatments available, including compression wraps, antimicrobial dressings, bioengineered skin substitutes and hyperbaric oxygen therapy (HBOT). The program's RN case managers bring exceptional care and compassion to their roles.
Michael Yaakovian, M.D., board-certified surgeon with Houston Methodist Surgical Associates, treats patients with diabetic foot problems and other nonhealing wounds. "Hyperbaric therapy supplies oxygen under pressure that supersaturates the red blood cells and plasma with oxygen, so when blood is supplied to the area of the wound, these supercharged blood cells help repair the wound and kill the infection, leading to the generation of new blood vessels and tissue growth," Yaakovian explained.
SELF-CARE TIPS
For people with diabetes, managing wounds to prevent complications requires care and diligence. Take good care of your feet with the following tips:
Inspect and wash feet daily. With poor sensation, there may be the presence of wounds that could go unnoticed.
Keep wounds clean and dry to reduce risk of infection.
File your toe nails. Clipping may increase the risk for skin injury.
Wear proper-fitting shoes and socks at all times.
Control your blood sugar, blood pressure and cholesterol to slow down the progression
of diabetic complications.
To schedule an appointment at Houston Methodist Wound Care Program at Sugar Land, call 281.275.0770 or visit houstonmethodist.org/wound-sl to learn more about the program.
Visit our Facebook page at fb.com/methodistsugarland for the latest news, events and information.