Dr. Cole Fitzgerald, M.D. joins Houston Methodist Pain Management Associates at Houston Methodist Willowbrook Hospital
Houston - March 5, 2018
Houston - March 5, 2018
Cole Fitzgerald, M.D., a board-certified anesthesiologist and pain specialist, recently joined Houston Methodist Pain Management Associates at Houston Methodist Willowbrook Hospital. He attended the University of Missouri-Kansas City School of Medicine's six-year medical school program, where he completed an internship in internal medicine and his residency in anesthesiology. Additionally, he completed a fellowship at the Cleveland Clinic Foundation Anesthesiology Institute, Department of Pain Management.
Acute or chronic pain can interrupt life. Houston Methodist Pain Management Associates at Willowbrook is committed to providing the highest quality interventional pain management. Treatment plans are geared to individual patient needs on an outpatient basis.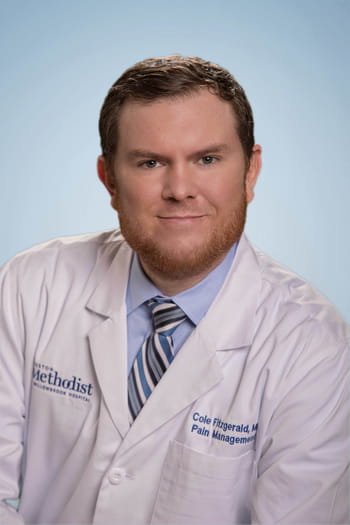 "Because pain symptoms are different from person to person, the right pain treatment must be tailored to the individual," said Fitzgerald. "We know that wherever your pain is, you just want it to stop. The good news is there are many treatment options available to manage or even alleviate pain."
According to Fitzgerald, pain that goes untreated can have a significant impact on patients and their interactions with families and friends. Chronic pain can become so severe that it affects concentration, job performance, social life and sleep. These negative effects of pain can also cause depression and isolation.
Many disorders can cause chronic pain. Symptoms may include headache, low back pain, cancer pain, arthritis pain or pain resulting from damage to the peripheral nerves or central nervous system (neuropathic pain).
"It's about pain management, not pain medicine," said Fitzgerald. "It's a partnership between doctor and patient. There must be communication. Pain conditions are often treatable with methods other than medicine, such as opioids and other drugs — which is why we do our best to provide patients with safe and effective pain management throughout their care."
Fitzgerald's clinical expertise includes:
comprehensive pain management
management of back and neck pain
joint, muscle and bone pain
neuropathic pain (neuropathy)
complex regional pain syndrome
epidural steroid injections
cervical and lumbar facet medial branch nerve blocks
cervical and lumbar medial branch radiofrequency ablation
joint injections
peripheral nerve blocks
sympathetic nerve blocks
Fitzgerald cautions that most aches and pains are not a sign of something serious, but certain symptoms of pain should be checked out immediately.
"If you experience chest pains, weakness or numbness in your arms and legs, or swelling in the legs that is red and tender, call 911 immediately," said Fitzgerald. "These could be signs of a heart attack, stroke or blood clot."
To schedule an appointment with Fitzgerald, call 281.737.0810.
About Houston Methodist Willowbrook Hospital
Houston Methodist Willowbrook Hospital is a 312 bed, not-for-profit, faith-based hospital, which is part of Houston Methodist. The hospital has expanded in Northwest Houston to serve the comprehensive health care needs of the growing community.
Houston Methodist Willowbrook Hospital has been named a Magnet recognized health care facility by the American Nurses Credentialing Center's (ANCC) Magnet Recognition Program®.
Houston Methodist Willowbrook is ranked No. 5 in the Houston metro area and No. 12 in Texas by U.S. News & World Report as a "Best Hospital" in 2017.
Houston Methodist Willowbrook Hospital specializes in cardiology and cardiovascular services, neurology, neurosurgery, orthopedics and sports medicine, and comprehensive cancer services. Houston Methodist Willowbrook Hospital has a Breast Care Center, Cancer Center, Imaging Center, Infusion Center, Sleep Center, and Surgical Weight Loss Center and operates a Childbirth Center with a Level III Neonatal Intensive Care Unit.
For more information about the comprehensive services available on the Houston Methodist Willowbrook campus and to learn about upcoming events, please visit houstonmethodist.org/willowbrook. To find a physician, call 281.737.2500.
About Houston Methodist Willowbrook Pain Management Center
Houston Methodist Willowbrook Pain Management Center uses a team approach that starts with a physical examination and medical history. We may recommend tests — imaging, bodily fluids, nervous system, muscles, joints, and bones — to determine any underlying causes for the pain being experienced. Our skilled team of neurologists, anesthesiologist and physical medicine and rehabilitation physicians may recommend a variety of medications and therapies to manage the symptoms of chronic pain syndrome to deliver exceptional care to patients with chronic pain.