Are you or a loved one living with Parkinson's disease or essential tremor?
Sugar Land - May 4, 2018
Sugar Land - May 4, 2018
Parkinson's disease affects more than one million Americans and is the second most common neurodegenerative disease after Alzheimer's disease. Approximately 60,000 Americans are diagnosed with Parkinson's disease each year.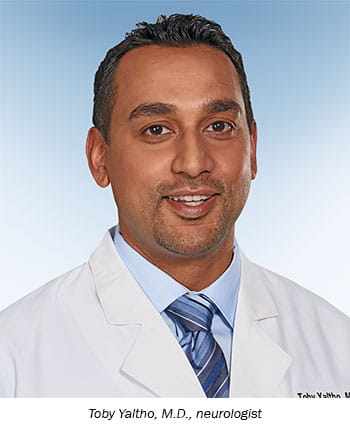 Toby Yaltho, M.D., fellowship-trained movement disorders neurologist at Houston Methodist Neuroscience & Spine Center at Sugar Land, can help patients suffering from Parkinson's disease and other movement disorders. A movement disorder results from the alteration of communication between the brain, muscles and nerves.
"Although Parkinson's disease produces typical symptoms, its diagnosis may be delayed because symptoms often develop slowly over many years," said Yaltho. "The risk of Parkinson's disease increases with age and is more common in people older than 65 years of age."
Symptoms of Parkinson's disease vary from person to person and can include tremor, or shaking, often in a hand, arm or leg; stiff muscles; slow movement; and difficulty with walking and balance.
"It may be challenging for physicians to differentiate Parkinson's disease symptoms from other conditions, such as essential tremor, that can be similar," said Yaltho.
In addition to Parkinson's disease, Houston Methodist Neuroscience & Spine Center at Sugar Land provides diagnosis and treatment for a wide range of neurological issues, including Alzheimer's and memory disorders, amyotrophic lateral sclerosis (ALS), back and neck pain, brain and spinal tumors, epilepsy, migraines, headaches, multiple sclerosis (MS), peripheral neuropathy, muscle and nerve injuries, and stroke.
"Disorders and diseases of the brain and spine require a multidisciplinary approach to diagnosis and an individual treatment plan for every patient," said Yaltho.
To schedule an appointment with Toby Yaltho, M.D., or another physician at the Houston Methodist Neuroscience & Spine Center, call 281.274.7979 or visit houstonmethodist.org/neuro-sl to request an appointment.
FREE PARKINSON'S DISEASE AND ESSENTIAL TREMOR SEMINAR
Join Toby Yaltho, M.D., fellowship-trained movement disorder neurologist, and Brian Dalm, M.D., neurosurgeon at Houston Methodist Neurological Institute, at 6 p.m. on Thursday, July 12 for a free patient education seminar at Houston Methodist Sugar Land Hospital's Brazos Pavilion Conference Center. They will discuss Deep Brain Stimulation (DBS) therapy for Parkinson's disease and essential tremor including the benefits and risks of surgery and appropriate patient selection. Registration required. Register online at events.houstonmethodist.org/parkinsons-sl or call 281.274.7500.