World-class artists deserve world-class care. That's why the
Houston Methodist Center for Performing Arts Medicine
is dedicated to providing leading edge treatment to Houston's performing artists.
Named after Dr. C. Richard Stasney, founder of the Center for Performing Arts Medicine, Stasney Chorus helps provide high-quality care for all our patients by:
Advancing research for new therapies and treatments
Supporting health education for performers
Integrating the arts into the hospital environment
Investing in new tools, technologies and facilities
CPAM has become the nation's largest and most comprehensive center specializing in the health care of performing artists. Whether ballet dancers sustain feet and ankle injuries, symphony musicians endure shoulder and neck pains from carrying around their instruments, or professional singers experience vocal strains, they all require specialized care and treatment from highly skilled physicians and therapists. CPAM provides them with access to Houston Methodist's leading health care teams as well as wellness and prevention clinics.
Help make a difference today in supporting both the arts and medicine by
becoming a member of Stasney Chorus
.
Meet dr. stasney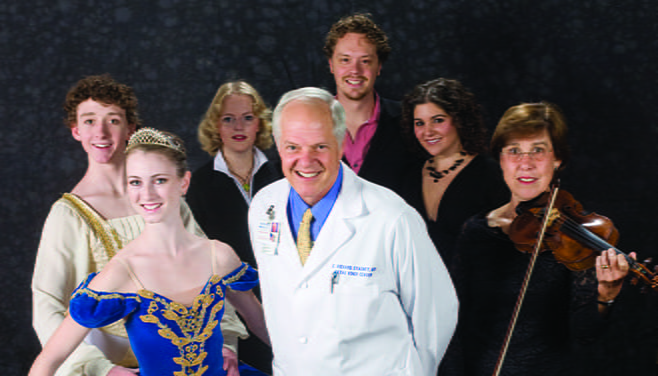 Dr. C. Richard Stasney, a Houston Methodist physician and an opera aficionado, inspired what is now CPAM in 1996. His interest in singing and musical drama began when he accompanied his mother to the opera as a child. Although his own vocal abilities did not earn him spot on his prep school glee club, Dr. Stasney continued to indulge his passion for music. He pursued a career as an ear, nose and throat specialist, becoming the primary physician for the Houston Grand Opera and other vocalists. He retired in 2016. Dr. Robert E. Jackson, who holds the C. Richard Stasney, MD Distinguished Chair in Performing Arts Medicine, helps CPAM carry on the tradition of caring for our area performing and visual artists.