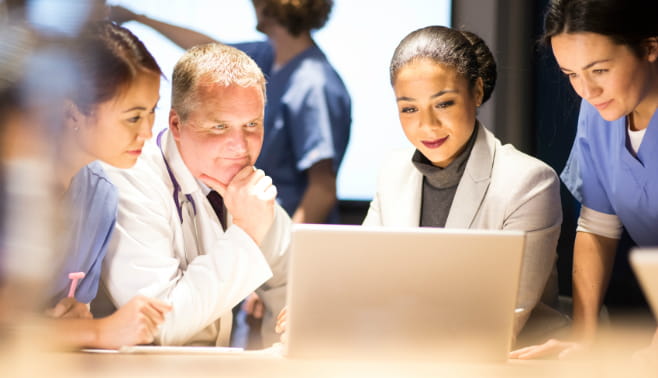 Houston Methodist Physicians' Alliance for Quality (HMPAQ) offers quarterly Continuing Medical Education (CME) events, educational webinars and timely electronic communications for HMPAQ members and their staff.

CME consists of educational activities which serve to maintain, develop and increase the knowledge, skills and professional performance and relationships that a physician applies to provide services for patients, the public and the profession. The content of CME is the body of knowledge and skills generally recognized and accepted by the profession as within the basic medical sciences, the discipline of clinical medicine and the provision of health care to the public.

Our HMPAQ CME topics have ranged from the management of diabetes to advance care directives applied to clinical practice and Value Based Care Programs. These events are currently in a virtual format and offer opportunity to network with fellow HMPAQ members as well as Houston Methodist Primary Care Group (HMPCG) physicians.




Previous WebEx CME Recordings:
Preconception Health: A Primary Care Approach to Improving Population Health Outcomes
9/16/2019
Speaker: Rashmi Kudesia, MD, MSc
Assistant Professor of Clinical Obstetrics and Gynecology, Academic Institute
Assistant Clinical Member, Research Institute
Houston Methodist
Weill Cornell Medical College
Lipid Management Updates: Patients with and without Established CVD
9/30/2020
Speaker: Khurram Nasir, MD MPH MSc, FACC FAHA FASPC FSSCT
Director Preventive Cardiology Clinic, Houston Methodist DeBakey Heart & Vascular Center
Co-Director Center for Outcomes Research, Houston Methodist
Adjunct Associate Professor of Medicine, Yale University
Adult Congenital Heart Disease: What you need to know
12/15/2020
Speaker: Chun Huie Lin, MD PhD, FACC, FSCAI
Structural Heart Disease Cardiology, Congenital Cardiac Disease, Adult Congenital Cardiac Disease
Houston Methodist DeBakey Cardiology Associates
Assistant Professor of Cardiology, Academic Institute
Assistant Clinical Member, Research Institute
Houston Methodist
Weill Cornell Medical College
Primary Care Treatment for Adults with Hepatitis C
3/25/21
Speaker: David W. Victor III, MD
Transplant Hepatology, Hepatology
Associate Professor of Clinical Medicine, Academic Institute
Associate Clinical Member, Research Institute
Houston Methodist
Weill Cornell Medical College
6/23/21
Speaker: Jeanette Ferrer, DO
Medical Director
Supportive and Palliative Care
Houston Methodist Hospital
Subclassifcation of Myocardial Infarction Current Challenges and Potential Solutions
9/22/21
Speakers:
Khurram Nasir, MD MPH MSc, FACC FAHA FASPC FSSCT
Director Preventive Cardiology Clinic, Houston Methodist DeBakey Heart & Vascular Center
Co-Director Center for Outcomes Research, Houston Methodist
Adjunct Associate Professor of Medicine, Yale University
Varun Kumar, MD
Medical Director, HMCC ACO Inpatient Service
Houston Methodist Coordinated Care
Discover the difference
Join one of the nation's leading academic medical centers