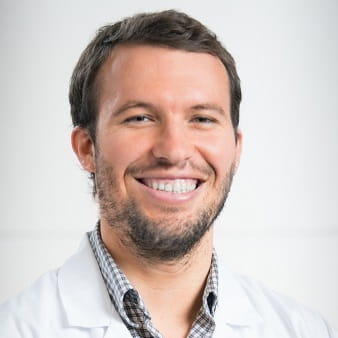 Matthew Hogan, PhD, 2018, NeuralCODR Fellow
Matt Hogan's research focus is on activity associated plasticity. He hopes to elucidate the role, if any, of neural activity patterns on spinal regeneration. Dr. Hogan's research has centered on tools and applications to selectively modulate the activity of neural circuits in the injured and naïve spinal cord to enhance regeneration and facilitate integration of neural stem cells to improve function. Hogan enjoys woodworking, guitar, coding, cooking and sports. Most weekends he is tinkering in his workshop at home or being forcibly cultured by his more sophisticated significant other.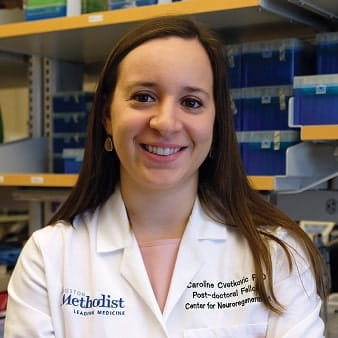 Caroline Cvetkovic, PhD, 2020, NeuralCODR Fellow
Caroline Cvetkovic earned her PhD in bioengineering at the University of Illinois Urbana-Champaign. Her doctoral work was focused on building engineered cellular systems with the ability to sense and process information, respond to external stimuli, and produce force. Her research integrated neuromuscular tissue engineering, 3D printing, bio-robotics, and biomaterials, and she contributed to the first demonstrations of bio-inspired machines powered by electrically and optogenetically stimulated skeletal muscle. In the Krencik Lab, she is developing human stem-cell derived 3D neuronal tissue cultures that can be used to study various aspects of development and degeneration, while determining their potential for regenerative clinical therapies. Cvetkovic enjoys outdoor activities, traveling, and going to museums.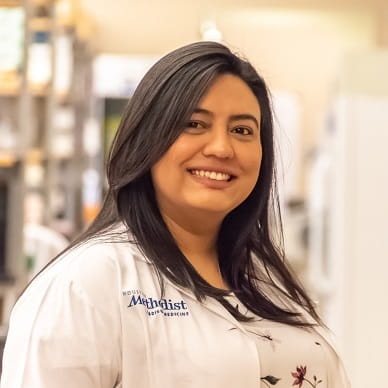 Betsy Salazar, PhD, 2020, NeuralCODR Fellow
Betsy Salazar completed her doctoral training at the University of Houston in 2015, where her research mainly focused on the electrophysiological characteristics of the rodent heart, including whole heart models, ex-vivo, as well as bioengineered cardiac constructs. Upon completion of her PhD, Dr. Salazar began postdoctoral training at the Houston Methodist Research Institute under the guidance of Dr. Alvaro Munoz and Dr. Timothy B. Boone. There, she investigated the electromyographic characterization of the lower urinary tract in intact and spinal cord injury rodent models. Currently, she investigates the use of therapeutic drugs to promote functional recovery following spinal cord injury in rodent models. More specifically, she is interested in assessing motor function recovery using behavioral tests, as well as assessing the impact treatments have at the cellular level. In her spare time, Betsy enjoys reading, drawing, traveling and spending time with her husband and wonderful puppy.
If you are interested to apply for a NeuralCODR Fellowship, please visit the "How to Apply" tab.