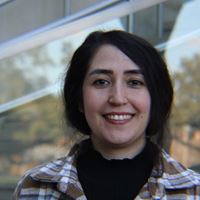 Sajedeh Nasr, PhD, 2023, NeuralCODR Fellow
Sajedeh Nasr is developing cell-based therapeutics to improve neuron reconnectivity after various nervous system injuries. Astrocytes have high potential as a therapeutic cell type for transplantation as they make significant contributions to neural network development, maturation, synaptogenesis, and homeostasis. Dr. Nasr reasoned that alginate hydrogel could be used to stably encapsulate human astrocytes and permit the secretion of proteins for the repair of either the injured central nervous system or the injured peripheral nervous system. Dr. Nasr received her PhD in Mechanical Engineering from the University of Michigan, Ann Arbor, and received her master's and bachelor's degrees in Mechanical Engineering. As a NeuralCODR trainee, her primary mentor is Dr. Robert Krencik, her secondary mentor is Dr. Mary C. "Cindy" Farach-Carson, and her clinical mentor is Dr. Amir Faraji. In her free time, Sajedeh enjoys cooking and doing hot yoga.
Sajedeh is sponsored through the National Institutes of Health (NIH) under award number T32NS126115.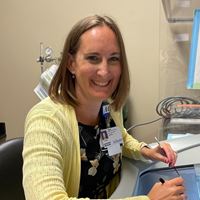 Laura Montier, PhD, 2022, NeuralCODR Fellow
Laura Montier's current work examines changes in mitochondrial regulation in response to therapeutic stimulation after spinal cord injury. With strict adherence to IACUC protocols, she has trained in cervical laminectomy in rats, a survival surgery that exposes the spinal cord. She contributed images of injured mouse cortex for co-authorship of a book chapter with Dr. Villapol, as well as examined structural vascular and glial responses to injury using iDISCO and PEGASOS tissue-clearing techniques. Dr. Montier is polishing protocols for two sets of multiplex fluorescent antibody labeling for confocal imaging of neuronal mitochondria-associated proteins in PFA-fixed rat spinal cord tissue. She completed her PhD at University of Houston studying the long-term effects of adenosine therapy during early development on glial morphology, behavior, and survival in a mouse model of Dravet syndrome. Laura has a passion for translational neuroscience research that will improve the lives of individuals with some of the most challenging health conditions.
Laura is sponsored through the generosity of Paula and Rusty Walter and Walter Oil & Gas Corp.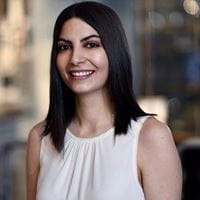 Sirena Soriano, PhD, 2021, NeuralCODR Fellow
Sirena Soriano is investigating the role that the gut microbiota plays in the link between traumatic brain injury (TBI) and Alzheimer's disease (AD). Her research proposes that restoration of the AD microbiome to a healthy state could improve the neuropathological consequences of brain injury, which she is testing by characterizing the effect of a fecal microbiota transplant from wild type mice administered to aged AD mice after TBI. Dr. Soriano obtained her PhD from the University of Valencia, Spain in 2016 under the mentorship of Drs. Moltó and Martínez. As part of her doctoral training, she joined the laboratory of Juan Botas, PhD, at Baylor College of Medicine as a visiting fellow to perform a genetic interaction screening in a fly model of Friedreich ataxia. She later joined the laboratory of Dr. Samaco at Baylor College of Medicine as a postdoctoral associate where she participated in the molecular and behavioral characterization of rodent models of autism spectrum disorders. In 2019, she joined the Villapol Lab as the next step in her pursuit of a career in academia.
Sirena is sponsored through the generosity of Paula and Rusty Walter and Walter Oil & Gas Corp.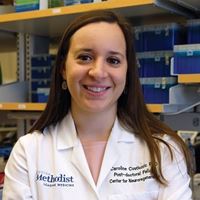 Caroline Cvetkovic, PhD, 2020, NeuralCODR Fellow
As a NeuralCODR fellow, Caroline Cvetkovic sought to engineer biomimetic nano-scale vesicles applicable for central nervous system targeting and therapeutics by combining lipid-based nanoparticles with human stem cell-derived neural cells. Her project bridged multiple research fields with the potential for extensive collaboration as well as translation to other organ systems outside of the central nervous system. During her tenure as a fellow, she was awarded the Excellence in Mentoring Award (2020 Houston Methodist OGSTA) as well as both the Juror's Choice Winner and the People's Choice Winner in the NeuroArt Image Contest (2020). Additionally, she published one first author and one co-authored journal article. Currently, she is a Teaching Professor of Bioengineering at the Grainger College of Engineering, University of Illinois, Urbana-Champaign. Dr. Cvetkovic enjoys outdoor activities, traveling, and going to museums.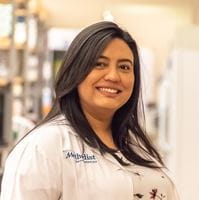 Betsy Salazar, PhD, 2020, NeuralCODR Fellow
As a NeuralCODR fellow, Betsy Salazar explored the therapeutic effects of electrical stimulation on sensorimotor function after spinal cord injury. More specifically, she sought to examine the mechanisms associated with spinal cord injury and bladder dysfunction first by assessing the spinal circuitry regulating the neural control of bladder voiding following spinal cord injury and second by defining electrical stimulation protocols that improve both motor and bladder function after spinal cord injury. Dr. Salazar now has a faculty appointment as a Research Scientist in the Urology Department at Houston Methodist. Her work focuses on studying the bladder-brain connection and utilizing noninvasive neuromodulation techniques to treat neurogenic and nonneurogenic bladder in humans. Notably, she recently presented data collected during her tenure as a NeuralCODR fellow at Mission Connect where her poster was awarded 1st place. In her spare time, she enjoys reading, drawing, traveling and spending time with her husband and wonderful puppy.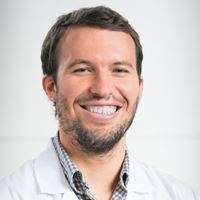 Matthew Hogan, PhD, 2018, NeuralCODR Fellow
Matt Hogan's research focus is on activity associated plasticity. He hopes to elucidate the role, if any, of neural activity patterns on spinal regeneration. Dr. Hogan's research has centered on tools and applications to selectively modulate the activity of neural circuits in the injured and naïve spinal cord to enhance regeneration and facilitate integration of neural stem cells to improve function. His progress has been successful, leading to a well-defined project and mentorship team, three peer-reviewed manuscripts, and another two under review. Dr. Hogan's project has been clearly impacted by the training environment created through NeuralCODR. Specifically, Dr. Hogan has melded into his research a novel clinical perspective on how stimulation devices can be delivered surgically through his clinical hours with neurosurgeon Dr. Sean Barber. Further, Dr. Hogan submitted an NRSA and several foundation fellowship applications based on the clinically relevant design. He was awarded two fellowships: one from the Neilsen Foundation and one from the Morton Cure Paralysis Fund. Dr. Hogan enjoys woodworking, guitar, coding, cooking and sports. Most weekends, he is tinkering in his workshop at home or being forcibly cultured by his more sophisticated significant other.