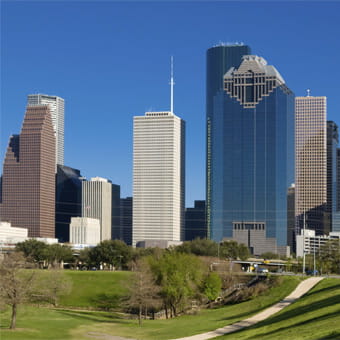 Houston, the fourth largest city in the United States, is an internationally renowned capital of the energy, aerospace and engineering industries; a center of education, with numerous institutions of higher learning; and home to Houston Methodist. It is a modern, cosmopolitan city, offering world-class shopping and a wealth of cultural and scenic opportunities.

For business and fun, for living and visiting, Houston is one of the dynamic frontiers on the world stage. With its proximity to the Southern Hemisphere and having the infrastructure to accommodate the growing needs of numerous global interests, Houston has become an international destination and one of the world's great cities.

Houston Quick Facts

Home to $2.1M people, Houston is the fourth most populous city in the nation (trailing only New York, Los Angeles and Chicago), and is the largest in the southern United States and Texas.
Houston is home to the Texas Medical Center, the largest medical center in the world, with a local economic impact of $10 billion. More than 52,000 people work within its facilities, which encompass 21 million square feet. Altogether 4.8 million patients visit us each year.

The three-airport system served 49.5 million passengers in 2010, including over 7 million international travelers.
If Houston were an independent nation, it would rank as the world's 30th largest economy.
More than 90 languages are spoken throughout the Houston area.
There are 92 countries that have consular offices in Houston, the third highest in the nation.
Houston has a Theater District second only to New York City with its concentration of seats in one geographic area. Located downtown, the 17-block Theater District is home to eight performing arts organizations with more than 12,000 seats

Houston ranks second in employment growth rate and fourth in nominal employment growth among the 10 most populous metro areas in the U.S. It consistently ranks as one of the "Best Places for Business and Careers" and was ranked the #4 'Coolest Cities to Live" in 2014 by Forbes magazine.

*Facts provided by the City of Houston. Learn more about Houston from the
City of Houston eGovernment Center.