Methodist Association for Postdoctoral and Trainee Affairs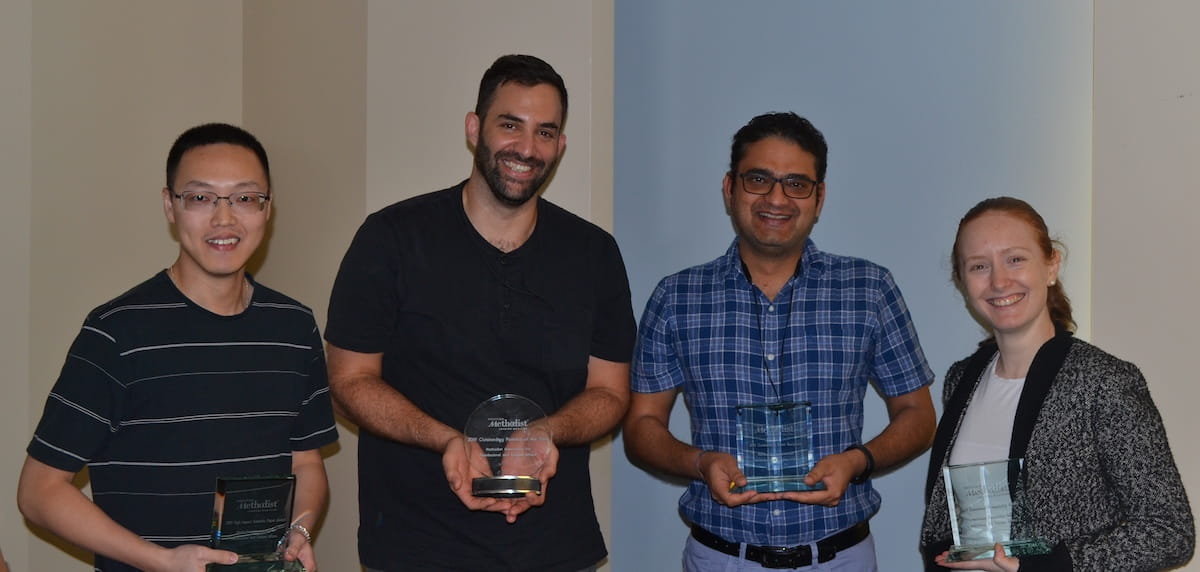 WHAT IS MAPTA?

The Methodist Association for Postdoctoral and Trainee Affairs is a self-governed association for translational science research professionals. They support postdoctoral fellows, graduate trainees, medical residents, and other translational science research professionals with education, networking, intramural activities, and career development and advancement opportunities. Some of the courses and seminars include (but are not limited to):


Coffee Chat
Career & Professional Development Series
Postdoctoral Affairs Series
International Affairs Series
Cultural Exchange Series
Outreach Events in the Greater Houston community
Summer Science Symposium
Please view the May 2021 MAPTA Events Calendar for upcoming events.
MISSION STATEMENT


The Methodist Association for Postdoctoral and Trainee Affairs is a trainee-run board, supporting all research trainees with programs of educational, cultural, and interpersonal value.


You can meet the current MAPTA Board below.
TRAINEE RESOURCES
We at the Methodist Association for Postdoctoral and Trainee Affairs are aware that much planning goes into being an effective scientist. Therefore, we wish to provide resources that will aid in your development as scientists. Below are a series of links that will aid in that development.
BIO SCIENCE WRITERS
At Houston Methodist,
BioScience Writers
offers by-appointment editorial and writing services for employees, faculty and physicians at the Houston Methodist Research Institute campus.
Their services include (but are not limited to):


Manuscripts (clinical and basic science)
Grant Proposals
Abstracts
Book Chapters
Dissertations
Medical Editing
Product and Package Labels
Slide Presentations
For additional information:
Amanda Weiskoff, PhD
Project Manager
BioScience Writers Office, Houston Methodist Research Institute
MEET THE 2020 – 2021 MAPTA BOARD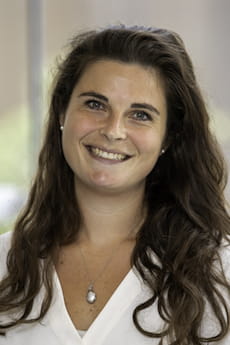 AVA BROZOVICH – PRESIDENT
MD/PhD – Clinical and Translational Science, Texas A&M Health Science Center (in progress)
MPH with emphasis on Epidemiology, Columbia University
BS – Molecular and Cellular Biology, The University of California at Berkeley
Ava Brozovich is an MD/PhD student at Texas A&M and is interested in developing novel treatments for osteosarcoma in pediatric patients. She has vast experience in infectious diseases, epidemiology, and immunology, from her undergraduate and graduate studies to two years experience working at Duke University as the lead coordinator for the International Pediatric Fungal Network, a network of over 50 sites throughout the world. Ava currently works under Francesca Taraballi, PhD and Bradley Weiner, MD in in the Department of Regenerative Medicine. Her current research focuses on whether a biomimetic magnesium-doped hydroxyapatite/type I collagen composite scaffold can regenerate in bone in the presence of chemotherapy, while also being oncologically-safe following osteosarcoma excision. After completing her MD/PhD, Ava will be applying for residency to become a pediatric surgeon. Ava's hobbies include reading, running with her dog Bear, teaching Pure Barre classes, and watching college football. As 2020-2021 MAPTA President, she serves to ensure all of MAPTA's initiatives are implemented for our trainees.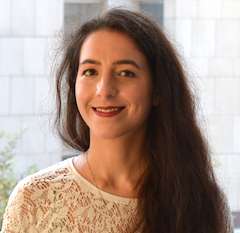 CHIARA MANCINO – VICE PRESIDENT
PhD – Biomedical Engineering, Politecnico di Milano, Milan, Italy (in progress)
MSc – Biomedical Engineering, Politecnico di Torino, Turin, Italy
BS – Biomedical Engineering, Politecnico di Torino, Turin, Italy
Chiara Mancino is a Graduate Research Fellow from Politecnico di Milano (The Polytechnic University of Milan) working in the Department of Orthopedics. Her current research in the lab of Francesca Taraballi, PhD aims to implement nanotechnology as a Post Traumatic Osteoarthritis (PTOA) treatment in vivo, using surgically induced PTOA mouse models. Particular focus is given to liposomal-based biomimetic nanoparticles that could potentially be used as an injectable solution for PTOA prevention immediately after trauma. To her, being the 2020-2021 MAPTA Vice President means being a part of something bigger, having the chance to create great and innovative content side-by-side to amazing officers. Always keeping people's best interest in mind, she intends to provide content aimed at improving everyday life, working on physical and mental health.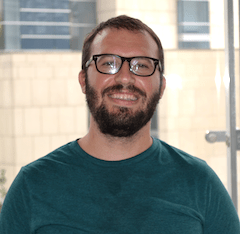 MATTHEW HOGAN, PHD – POSTDOCTORAL AFFAIRS
PhD – Biomedical/Medical Engineering, University of Houston
BS – Biomedical/Medical Engineering, University of Texas at Austin
Matt's research focuses on activity associated plasticity in the brain and spinal cord, particularly after injury. He has helped to develop and deploy a novel spinal stimulation system to electrical patterns which may promote recovery. Prior to his current appointment in the laboratory of Philip Horner, PhD, Matt completed his PhD in biomedical engineering at the University of Houston under the mentorship of Ravi K. Birla, PhD. He participated in the development of multiple engineered cardiac tissue models including heart muscle, ventricle and whole heart models. He also deployed several novel bioreactors for the conditioning and maintenance of in vitro tissue mimetic cultures. Matt enjoys woodworking, guitar, coding, cooking and sports. Most weekends he can be found tinkering in his workshop at home or being forcibly cultured by his more sophisticated significant other. In leading postdoctoral affairs, Matt's focus is bringing in specific career and professional development initiatives for postdoctoral fellows at the Houston Methodist Academic Institute.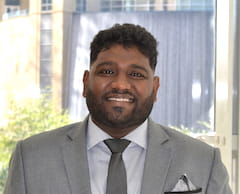 ABISHAI DOMINIC – CAREER & PROFESSIONAL DEVELOPMENT
PhD – Medical Clinical Sciences, Texas A&M Health Science Center (in progress)
B. Tech – Biotechnology, Anna University, Chennai, India
Abishai Dominic is a PhD student at the Texas A&M College of Medicine and is interested in cardiovascular and regenerative medicine. Abishai graduated his undergraduate from Anna University, India with an engineering major in Biotechnology. During his undergraduate degree pursuit, Abishai was involved in several internship programs that enabled him to gain vast experience in stem cell and regenerative medicine. Among them include his internship at the Wexner Medical Center, Ohio State University, USA and Center for Cellular and Molecular Biology, India. Abishai currently works under the mentorship of Nhat-Tu Le, PhD and John Cooke, MD PhD, in the Center of Cardiocascular Regeneration. His current research focuses on defining the molecular factors that govern endothelial cell identity and deciphering genetic circuits that are involved in endothelial and vascular senescence and aging. After completing his PhD, Abishai intends to pursue a postdoctoral position to continue his research in tissue engineering and regenerative medicine. In leading Career and Professional Development, Abishai is interested in organizing events that provide trainees opportunities to learn about academic and industrial/alternative career paths. In addition, he is interested to provide trainees with resources that enable them to commercialize and establish products from academic research.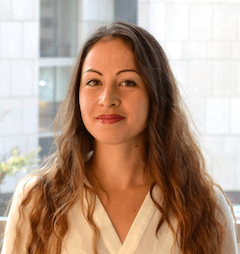 FRANCESCA PARADISO – INTERNATIONAL AFFAIRS
PhD – Medical and Healthcare Studies, Swansea University Medical School, Swansea United Kingdom (in progress)
MS – Molecular and Cellular Medical Biotechnology, Libera Università Vita-Salute San Raffaele, Milan, Italy
BS – Medical and Pharmaceutical Biotechnology, Libera Università Vita-Salute San Raffaele, Milan, Italy
Francesca Paradiso is a PhD student at Swansea University Medical School (Swansea, UK). Her current research in the lab of Francesca Taraballi, PhD, combines biotechnology and engineering expertise to build a 3D in vitro model to study stroma-tumor interactions during ovarian cancer development. She is in charge for international affairs office with the main goal of organizing multicultural events to promote cross-cultural communication. "Being comfortable in the uncomfortable" is her personal mantra. She is passionate and curious about cultures' evolution and believes in multicultural connections as the only solution to dissipates the divisiveness of ignorance. Events under International Affairs will celebrate cultures' common grounds while unveiling and embracing each one uniqueness. The office's mission is to recognize stereotypes and cultural filters and fight them stimulating curiosity, open discussions free of judgments and new learning experiences.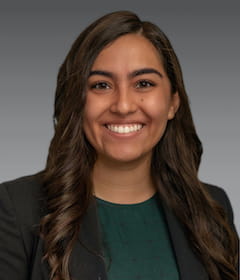 YAJAIRA JIMENEZ – OUTREACH
MD/MS - Texas A&M College of Medicine (in progress)
BS - Biology with minor in Chemistry, St. Mary's University (TX)
Yajaira Jimenez is an MD/MS student from Texas A&M University College of Medicine. She works in the Department of Nanomedicine in the laboratory of Bruna Corradetti, PhD, MSc. The project she is working on consists of using dendritic-cell derived exosomes as immunotherapeutics to treat ovarian cancer. She was born in Brownsville, Texas and received her Bachelor of Science in Biology with a minor in Chemistry from St. Mary's University in San Antonio. While at St. Mary's she was a member of the Marianist Leadership Program where she helped lead campus-wide volunteer events throughout the West side of San Antonio helping to connect the students with their surrounding community. As the 2020-2021 MAPTA VP of Outreach, she hopes to open the doors to careers in STEM fields by giving our trainees the opportunity to interact with surrounding communities through various community service events and mentorship opportunities.