Mission
The Houston Methodist Hand Therapy Residency will advance the knowledge and skills of occupational therapy practitioners in the focused area of hand therapy, and will promote professional growth of residents toward becoming:
Highly skilled clinicians, providing consistently excellent patient care.
Proficient consumers and contributors to the scientific literature.
Also, the residents will be accelerated toward becoming:
Leaders in the occupational therapy profession with a specialty in hand therapy.
Board certified in physical rehabilitation (BCPR) and certified hand therapists (CHT).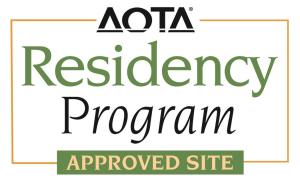 Overview
The Houston Methodist Hand Therapy Residency program is a 12 month program for occupational therapists ready to advance their professional growth in the focused area of hand therapy. The program is an approved residency program by the American Occupational Therapy Association (AOTA), and it strongly emphasizes mentoring, didactic education, and refinement of clinical reasoning skills in an outpatient hand therapy setting. Upon successful completion of the program, occupational therapists qualify to submit a professional portfolio to AOTA for board certification in physical rehabilitation (BCPR), after three years of OT practice, compared to five years of practice otherwise required for this credential. The requirement to sit for the CHT exam remains at three years, but the residency program serves as a strong entry point into the specialty of hand therapy for those desiring to pursue this career path.
Goals
Hand therapy residents will:
Use evidence-based occupational therapy to establish an individualized plan of care to improve occupational performance for clients with upper extremity pathology.
Apply advanced occupational therapy interventions for clients with various conditions treated in upper extremity orthopedic rehabilitation.
Serve as ambassadors to the community by promotion of occupational therapy intervention and promotion of health and wellness as it pertains occupational therapy and specifically to the specialty of hand therapy.
Demonstrate expertise and creativity in individualized fabrication and use of custom fabricated orthoses for upper extremity rehabilitation with a client-centered approach to occupational therapy.
Demonstrate effective communication skills and ability to work well in collaboration with other professionals to coordinate care for clients with upper extremity disorders.
Enhance the occupational therapy profession by way of two or more of the following: publication, teaching, research and /or professional presentations.
Contact Us
For more information on the Houston Methodist Sugar Land Physical Therapy Residency Programs, please contact:
Peggy Boineau, MOT, OTR, BCPR, CHT
pjboineau@HoustonMethodist.org