Houston Methodist Spine Center at Willowbrook

Back and Neck Pain Specialists Serving Willowbrook, Cypress, Spring and Tomball
If you suffer from back and neck pain that is limiting your quality of life, you may not know where to go for help. The experienced team at the Houston Methodist Spine Center at Willowbrook is here to guide you through diagnosis and treatment to recovery.
Our approach is to provide coordinated care, drawing on the expertise of several specialists and providers, which is highly personalized for your injury or condition.
Why Choose Houston Methodist Willowbrook for Spine Care?
Physician expertise: Your multidisciplinary team has experience and expertise treating a full range of spine-related disorders, including back and neck pain, herniated disks, spinal cord pinching, congenital disorders, degenerative conditions, spinal injuries and more.
Personalized care using the latest technology: Your treatment will be designed for your unique back or neck pain, including options ranging from pain management, massage therapy, physical therapy and other nonsurgical procedures to advanced, minimally invasive surgery that reduces risk and helps speed your recovery.
Expedited appointments, convenient treatment: Our care navigator will help to streamline your path to treatment, with all appointments in one location near you at the Spine Center.
Coordinating Your Care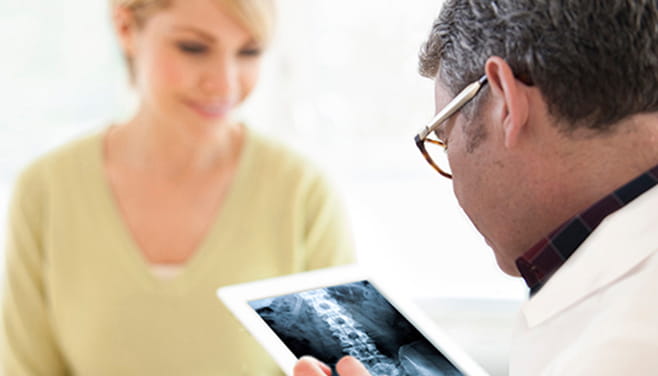 Because of the complex nature of the spine and all the vital functions associated with it, treatment plans often require the input and cooperation of several specialists.

Our care navigator will help you quickly schedule appointments with the right specialist from your spine treatment team — which may include physical therapists, pain management specialists, sports medicine doctors, orthopedic surgeons, neurosurgeons and neurologists.

In addition, your navigator will help speed the process along, often securing an initial consult within one week of your first inquiry. And with the Spine Center at Willowbrook, all of your appointments will be in one location, conveniently located near your home or work.

Our Spine Center care navigator will be your personal point of contact for coordinating care and aiding in communication between your primary care provider and your Spine Center team.
Access the Care You Need
Houston Methodist Spine Center at Willowbrook offers a team of specialists treating a full range of spine conditions. Our treatment plans range from nonsurgical options to minimally invasive surgery, and
with in-person and virtual appointments, you can access the care you need quickly and safely.
Meet Your Clinical Navigator: Megan L. Eaton, PTA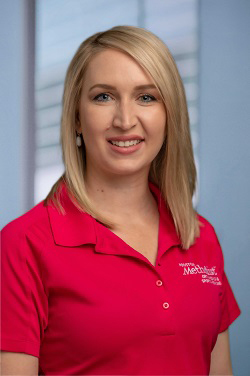 Megan L. Eaton, PTA, joined Houston Methodist Willowbrook Hospital in 2020 at the height of the COVID-19 pandemic. Her background as a physical therapist assistant encompasses many settings, including outpatient clinic, home health, geriatrics, skilled nursing facilities, neuro specialties, acute care and inpatient rehab. Having treated neurologically impaired patients and orthopedic spine injuries, in January 2022, she became the spine center clinical coordinator at Houston Methodist Willowbrook.
Call Megan at 281.737.7463.
A Full Range of Back and Neck Pain Treatment Options
Our highly trained back and neck pain specialists recommend treatment options that range from nonsurgical alternatives such as lifestyle changes, nonsurgical treatments, injections, physical therapy and pain management to spinal surgery. We'll work with you to develop a treatment plan at the right level for you based on scientific research and proven methods.
If you're suffering from back or neck discomfort, don't wait until the pain becomes unbearable to see a doctor. The earlier we can address the issue behind your pain, the better the chances are of treating it with nonsurgical or minimally invasive methods. And because we understand that back and neck pain often can't wait, we are dedicated to scheduling you with the right provider within five business days of your first call.
Conditions We Treat
We treat all types of spine-related disorders, including back and neck pain, spinal cord pinching, congenital disorders, degenerative conditions, spinal injuries and more.
Some of the most common conditions we treat, include:
Back and neck injuries, including herniated or bulging disks and spinal cord injuries
Back and neck pain due to injury, degenerative disorder or genetic condition
Neuropathic pain
Osteoporosis
Peripheral neuropathy
Radiculopathy
Sciatica
Scoliosis
Spasticity
Spinal stenosis
Spinal tumors
Spondylolisthesis
Our Back and Neck Pain Specialists Are Here to Help
To schedule an appointment or for more information, call 281.737.7463. You may also fill out this form to request an appointment online.
Houston Methodist Spine Center at Willowbrook
18220 State Highway 249
Houston, TX 77070
281.737.7463