you can finally gain relief from neck and Back pain
Whether you've had neck or back pain for a few days or several years, you'll find everything you need at Houston Methodist Spine Center at West to diagnose and treat your condition in one convenient location.
You have access to state-of-the-art diagnostic technology and board-certified doctors who work together to provide comprehensive, personalized care, designed to help you return to a productive lifestyle.
OUR NURSE COORDINATOR WILL EXPEDITE YOUR CARE
Claudia Kim, BSN, RN, our Spine Center nurse coordinator, will help expedite your care, ensuring that you see the right medical provider the first time - within five business days.

Call (832.522.2225) or e-mail Claudia today to schedule your appointment.
"Patients are not a medical condition. They are individuals who deserve individualized attention and care."
--Claudia Kim, BSN, RN
MULTIDISCIPLINARY TEAM OF EXPERTS
A multidisciplinary team of specialists, sub-specialists and health professionals works together to develop your customized treatment program, coordinating with each other as well as with your referring physician. This approach means that you will receive the most appropriate treatment from the right specialists based on scientific research and proven treatment methods.

SURGERY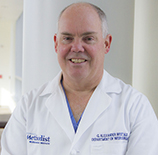 Dr. G. Alexander West
Neurosurgery
Spine surgery
Dr. B. Christoph Meyer
Orthopedic spine surgery
Dr. Nicolas Nammour
Neurology
Dr. Atta Rehman
Vascular neurology
Dr. Nimish Davé
Pain management
Dr. Karan Madan
Pain management
Dr. Sebastian Villareal
Pain management
PRIMARY CARE / SPORTS MEDICINE
Dr. Peter Sprockel
Primary care
Orthopedics sports medicine
Melissa Stowers, PA

Ogechi Onyebgula, NP
Houston Methodist West Hospital
18500 Katy Fwy.
Houston, TX 77094
832.522.2225