The Spine Program at Houston Methodist Clear Lake Hospital

Whether you've suffered a serious back injury or are living with chronic back or neck pain, you can count on our collaborative team of specialists to get you back to the activities you love. We offer comprehensive back and neck pain services, including advanced nonsurgical treatments and the latest in minimally invasive surgery.

At Houston Methodist Clear Lake Hospital, back and neck pain is treated by an elite team of sports medicine specialists. This team includes board-certified surgeons, primary care sports medicine physicians, rehabilitation therapists, occupational therapists, athletic trainers and pain management specialists.

We have been a leader in orthopedic spine care for nearly 30 years, and our level of expertise is far-reaching. You'll find the highest quality orthopedics and sports medicine care conveniently located under one roof and close to home.
Back and Neck Pain — Treated in the Bay Area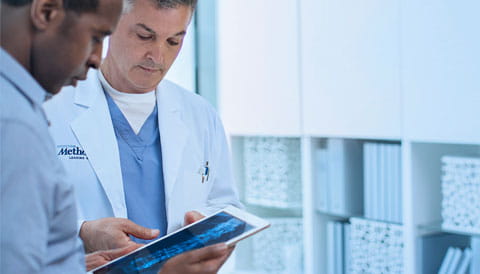 At Houston Methodist Clear Lake, our physicians collaborate across specialties to diagnose and treat common to complex spine conditions. With advanced treatment options, we provide comprehensive care close to home. For more information or to schedule an appointment, call 713.363.9090.
Conditions We Treat
Neck, mid-back and low-back pain
Acute sprains and strains
Degenerative disc disease
Disc protrusions and ruptures
Sacroiliac joint dysfunction
Sciatica
Scoliosis
Spinal stenosis
Spondylosis
Radiculopathy
Epilepsy and seizures
Headaches and chronic pain
Head and neck arteriovenous malformations
Intracranial atherosclerotic disease
Multiple sclerosis (MS)
Neuromuscular disorders
Pain conditions
Parkinson's disease and movement disorders
Psychiatry
Stroke and cerebrovascular diseases
What makes Houston Methodist Clear Lake Spine Program special?
Our orthopedic surgeons are fellowship-trained, meaning they have completed specialty training in a specific field of orthopedic surgery.
Whether you've been experiencing pain for a few days or a few years, we provide personalized treatment plans and comprehensive pain management services to help you feel better, faster.
Treatment doesn't end when you recover. You have the ability to improve your performance through our comprehensive sports medicine services.
Spine Care Services

Our team of experts offers the following services:
Physical therapy. Physical therapists use manual therapy, specific exercises, aquatic therapy, traction, dry needling, kinesiotape, graston, heat and electrical stimulation. A therapist will also design a home exercise program to help speed your healing.
Interventional pain management. Injections, radio frequency ablations and nerve blocks may be used to accurately diagnose and ease your pain. Pain pumps and spinal cord stimulators can provide ongoing relief.
Neurology care. Neurologists are experts in distinguishing pain due to spine and nerve problems from pain caused by musculoskeletal abnormalities.
Electromyography (EMG). This test measures muscle response or electrical activity in your muscles, and can help diagnose neuromuscular disorders (conditions that affect the nerves controlling voluntary muscles), such as multiple sclerosis (MS) and muscular dystrophy.
Surgery. Most people with back and neck pain don't require surgery. However, when surgery is necessary, minimally invasive techniques can successfully reduce pain, prevent permanent injury and restore function as quickly as possible.
Share: