Wooldridge joins Houston Methodist Orthopedics Sports Medicine
Nassau Bay - August 21, 2018
Nassau Bay - August 21, 2018
Gillian Wooldridge, D.O., a board-certified physician specializing in non-surgical orthopedics, sports medicine and primary care, has joined Houston Methodist Orthopedics & Sports Medicine at St. John.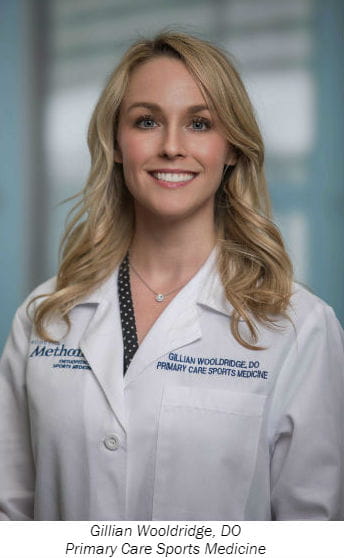 Dr. Wooldridge's areas of expertise include the diagnosis and treatment of orthopedic and musculoskeletal injuries, chronic orthopedic conditions, joint pain, concussion and fracture management and general medical conditions. She will also provide sports team and event coverage for local high schools.
Wooldridge earned her medical degree from the University of North Texas Health Science Center - Texas College of Osteopathic Medicine and completed family medicine residency at Houston Methodist in the Texas Medical Center. She completed a fellowship in primary care sports medicine at Houston Methodist Willowbrook Hospital.
"Houston Methodist Orthopedics & Sports Medicine is highly regarded, and I am proud to be a member of this elite team of physicians and therapists," said Wooldridge. "Sports medicine is a growing subspecialty, designed to offer a health care partnership to individuals who desire an active, healthy lifestyle. My goal with every patient is to understand their unique needs and work with them to develop a treatment plan that helps them recover and keeps them doing what they love."
Wooldridge sees patients at the Nassau Bay and League City locations. To schedule an appointment visit houstonmethodist.org/appointments or call 713.363.9090.
About Houston Methodist St. John Hospital
Houston Methodist St. John Hospital is located in Nassau Bay, across from the NASA/Johnson Space Center, and brings the expertise and compassionate care of Houston Methodist Hospital in The Texas Medical Center to Clear Lake Area communities. The hospital provides a broad spectrum of adult medical and surgical care, is an accredited chest pain center and a primary stroke center designated through DNV. St. John offers many inpatient and outpatient services, including a Cancer Center, state-of-the-art imaging, labor and delivery with a level II neonatal ICU, minimally invasive surgery and comprehensive orthopedics and sports medicine. Visit houstonmethodist.org/stjohn for more information.