Sudha Nagaraj, M.D. joins Houston Methodist Primary Care Group in Sweetwater
Sugar Land - April 19, 2018
Sugar Land - April 19, 2018
Houston Methodist Primary Care Group is pleased to announce Sudha Nagaraj, M.D. is now seeing patients in Sugar Land at 4660 Sweetwater Blvd., Suite 210. Nagaraj adds another board-certified internal medicine specialist to the team of primary care providers serving the Sweetwater community.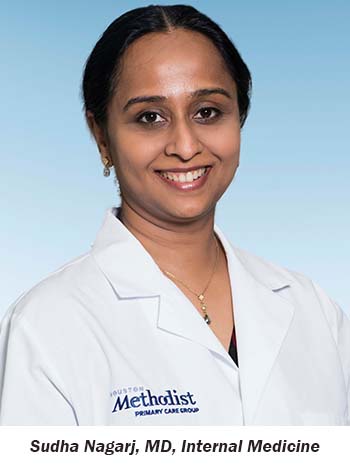 Nagaraj has a broad range of clinical expertise, including prevention and wellness, diagnosis and management of acute and chronic illnesses, health screenings, routine immunizations, hypertension, high cholesterol and diabetes.
Prior to joining Houston Methodist Primary Care Group, Nagaraj served as an assistant professor at the Baylor College of Medicine and was consistently recognized for excellence in patient care.
She attended medical school in Chennai, India and, in addition to English, is also fluent in Tamil and Hindi. After receiving her medical degree from the Madras Medical College, Nagaraj went on to complete the University of California-Los Angeles Internal Medicine Residency Training Program at West Los Angeles Veterans Affairs Medical Center in California.
"In the sick room, 10 cents worth of human understanding equals 10 dollars worth of medical science – this quote has been my guiding mantra as a physician over the years," Nagaraj said. "I'm excited to form trusting partnerships with my patients in an effort to improve their overall health."
To schedule an appointment with Sudha Nagaraj, M.D. or another Houston Methodist Primary Care Group physician, visit houstonmethodist.org/pcg/sweetwater or call 281.930.6639.