New technology is improving breast cancer surgeries at Houston Methodist Sugar Land Hospital
Sugar Land - January 20, 2018
Sugar Land - January 20, 2018
Houston Methodist Sugar Land Hospital is the only hospital in Fort Bend County using a new radar localization technology to improve the outcome of breast cancer surgeries and biopsies.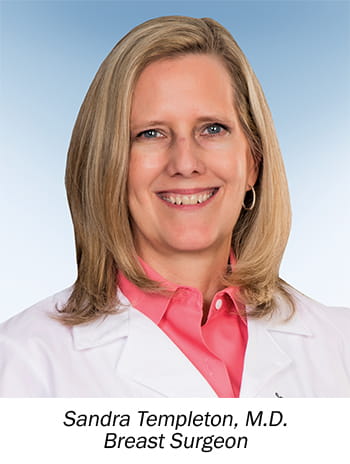 The Savi Scout® system, developed by Cianna Medical, enables Houston Methodist Sugar Land radiologists and breast surgeons to pinpoint the exact location of breast tumors both before and during a surgical procedure without using wire localization.
"This is a major advancement in the way we prepare for and perform breast cancer surgery," said Sandra Templeton, M.D., breast surgeon with Houston Methodist Breast Surgery Partners at Sugar Land. "This technology, when appropriate, enables us to work more efficiently and effectively while improving patient satisfaction."
The Scout system uses non-radioactive, radar technology to provide real-time surgical guidance during breast surgery. A tiny reflector is placed in the tumor by a radiologist using ultrasound. During surgery, Scout detects the location of the reflector — and the tumor — and sends real-time audio and visual indicators to the surgeon.
"The other method of identifying nonpalpable tumor locations involves placing a wire in the cancerous tissue the day of surgery," said Logan Boatman, M.D., a board-certified radiologist who specializes in breast imaging at Houston Methodist Sugar Land. "With Scout, the reflector can easily be placed days to months before surgery without shifting its location."
Since wire localization can be a cause of discomfort and dissatisfaction for women undergoing breast biopsy or surgery, Scout provides a less stressful experience the day of surgery or biopsy.
"Breast cancer surgery is physically and emotionally challenging for women," said Templeton. "Scout allows us to improve our process by resolving one of the patient dissatisfiers of breast conservation surgery by eliminating the need to place a wire inside breast tissue to locate a tumor."
The technology is just one of the ways that Houston Methodist Sugar Land is advancing breast conservation surgery — a popular approach to treatment that leaves women with a breast and nipple that are as natural as possible while removing cancerous cells.
To schedule an appointment with Houston Methodist Breast Surgery Partners, call 281.724.4276 or visit houstonmethodist.org/spg to learn more about the practice.
Visit our Facebook page at fb.com/methodistsugarland for the latest news, events and information.