Learn how joint replacement surgery can help you regain your freedom
Nassau Bay - August 15, 2018
Nassau Bay - August 15, 2018
For folks over 50, it's not unusual to feel soreness after increased activity. That's simply a sign of aging.
But if you experience swelling, have trouble getting in and out of the car or climbing stairs, or find that your joint pain is limiting any activity – it's time to see a doctor.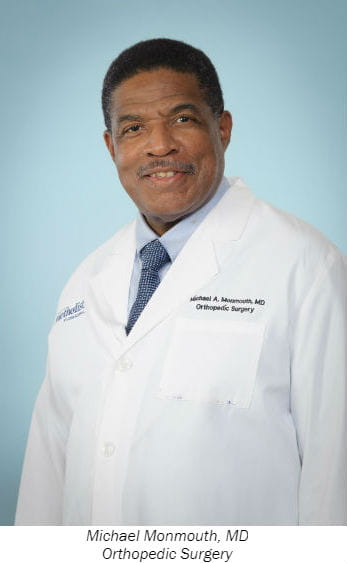 "There are a number of factors that impact our joint health over time," said Michael Monmouth, M.D., a board-certified orthopedic surgeon at Houston Methodist Orthopedics & Sports Medicine at St. John. "The most common cause of joint pain is osteoarthritis, which is simply the breakdown of the cartilage that provides cushioning. That leads to pain, stiffness and swelling."
Osteoarthritis can be caused by heredity, excess weight gain or even overuse. And osteoarthritis in the knee or hip can be debilitating, leading to constant pain, a loss of mobility and an end to activities such as tennis, golf, gardening or dancing.
One solution is joint replacement surgery, which is growing in popularity thanks to an aging, active population. According to the American Academy of Orthopaedic Surgeons, by 2030, more than 3.5 million knee replacements will be performed in the U.S. each year. And the patients are getting younger; half of those receiving knee replacements today are under 65, and most are still in the workforce.
"The main goal of joint replacement surgery is to reduce pain so you can perform every day activities," said Monmouth. "Typically, post-surgery, you can become much more physically functional and stable when your joints no longer hurt."
For joint replacement patients, Houston Methodist St. John Hospital offers the unique Rapid Recovery program, which enables some patients to reduce their hospital stay and return to activity faster.
Today's replacement joints can last 20-25 years and generally provide pain-free movement, allowing patients to resume most physical activities.
"The first step to deciding about joint replacement surgery is talking with an orthopedic surgeon, who can help you decide on a course of treatment that is right for your particular situation," said Monmouth.
JOINT REPLACEMENT INFORMATION SESSION
Join orthopedic surgeon Michael Monmouth, M.D. and a licensed physical therapist to learn how joint replacement surgery can free you from pain and allow you to return to an active lifestyle. Monmouth will describe current best practices in joint replacement surgery, provide guidance on determining who is a good surgical candidate and offer tips on how to approach surgery for the best results. Our PT will discuss the post-surgery rehabilitation process and Rapid Recovery program. The event is scheduled from 5:30-7 p.m on Wednesday, Sept. 12, in the West Building – located at 2035 Space Park Dr. – on the Houston Methodist St. John Hospital campus. Light refreshments will be served. Please register at houstonmethodist.org/events or call 281.333.8899.