Latifa Fakoya, D.O., joins Houston Methodist Rheumatology Associates
Sugar Land - May 5, 2018
Sugar Land - May 5, 2018
Latifa Fakoya, D.O., is joining the medical staff at Houston Methodist Rheumatology Associates, located in Medical Office Building 2 on the Houston Methodist Sugar Land Hospital campus. She will begin seeing patients May 14.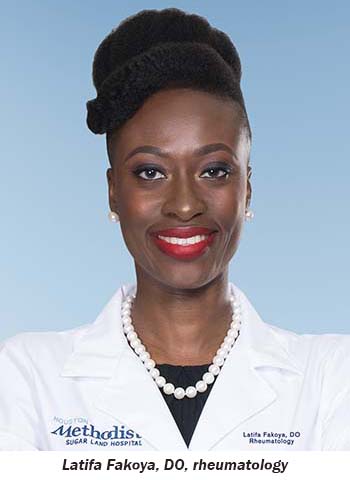 Fakoya is a fellowship-trained rheumatologist who is board-certified in rheumatology and internal medicine. She earned her doctor of osteopathic medicine degree from Nova Southeastern University College of Osteopathic Medicine in Fort Lauderdale, Fla., and completed her post-doctoral work at Medical College of Georgia in Augusta, as well as a fellowship in rheumatology at the University of Utah in Salt Lake City.
"The pain, swelling and stiffness associated with rheumatic disorders and diseases can be debilitating if left untreated," Fakoya said. "Today, however, we have a wide range of treatment options that can help reduce or eliminate these symptoms, allowing patients to live active, healthy lives. If you suffer from arthritis or one of the other rheumatic conditions, it's important to see a rheumatologist and seek help. We can create a treatment plan that works for your individual needs and lifestyle."
"Dr. Fakoya's experience and knowledge will be a great asset to our team," said Angela McCain, M.D., of Houston Methodist Rheumatology Associates. "Her background in working with patients across the spectrum of rheumatic diseases will strengthen our ability to provide care and treatment to those who suffer from rheumatoid arthritis, lupus, scleroderma, inflammatory muscle diseases, psoriatic and reactive arthritis, spondyloarthritis and more."
"I am excited about the opportunity to begin serving the Fort Bend community," Fakoya said, "and I look forward to helping patients better manage these serious conditions."
To schedule an appointment with Latifa Fakoya, D.O. please call 281.201.5938. To learn more about Houston Methodist Sugar Land Hospital, visit houstonmethodist.org/sugarland or our Facebook page at fb.com/methodistsugarland for the latest news, events and information.