Houston Methodist Sugar Land Hospital Offers Advanced MRI Technology
Sugar Land - August 28, 2018
Sugar Land - August 28, 2018
Houston Methodist Sugar Land Hospital has new technology in its 3T wide bore MRI, providing a new level of patient comfort.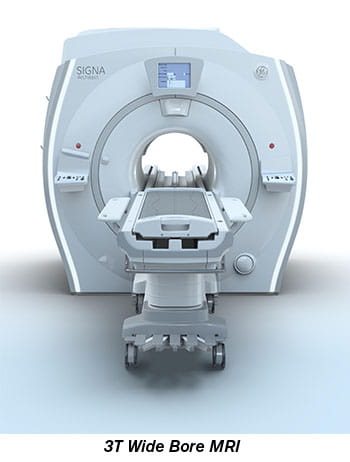 The new technology has adaptable coil designs and acceleration techniques that minimize scan times and improve image quality.
This new MRI, the SIGNA™ Architect, is a versatile and adaptable system from GE Healthcare.
The hospital's 3T wide bore MRI features a wider cylinder that accommodates patients who are larger, claustrophobic, elderly or young patients, or those who are in pain, by providing a roomier machine. The hospital's wide-bore MRI is 10 centimeters larger in diameter than the standard MRI providing more headroom, legroom and elbowroom.
"Combining the power and high-definition imaging of our 3T machine with our wide-bore cylinder and Silent Scan technology will enable us to continue to provide the best possible diagnostics along with the most comfortable patient experience," said Janet Leatherwood, chief nursing officer. "This is another example of Houston Methodist Sugar Land's commitment to providing patients with the latest in diagnostic imaging technology."
MRI technology -- which uses strong magnetic fields rather than X-rays to produce detailed, cross-sectional images of the body -- has a variety of diagnostic uses. Houston Methodist Sugar Land radiologists have specialized training in the areas of neuroradiology, musculoskeletal radiology, breast radiology, gastrointestinal radiology and interventional radiology.
"The 3T MRI is the gold standard in imaging, and our capabilities enable us to quickly and accurately diagnose conditions across a wide range of specialties," said Eric Longo, M.D., board-certified radiologist and medical director of radiology at Houston Methodist Sugar Land. "But being able to do so in the best possible environment for our patients has always been a priority. When combined with a wide bore machine, we can eliminate much of the anxiety involved with traditional MRI scans and make it possible for patients to stay relaxed and calm throughout the procedure."
To schedule an appointment, visit houstonmethodist.org/imaging or call 281.274.7170. For more information about Houston Methodist Sugar Land Hospital, visit houstonmethodist.org/sugarland or our Facebook page at fb.com/methodistsugarland for the latest news, events and information.