Drs. Michael Kent and Thomas Rivers join Houston Methodist Orthopedics & Sports Medicine at Sugar Land
Sugar Land - September 4, 2018
Sugar Land - September 4, 2018
Houston Methodist Orthopedics & Sports Medicine at Sugar Land announces that Michael Kent, M.D., and Thomas Rivers, M.D., are joining the practice on Sept. 4.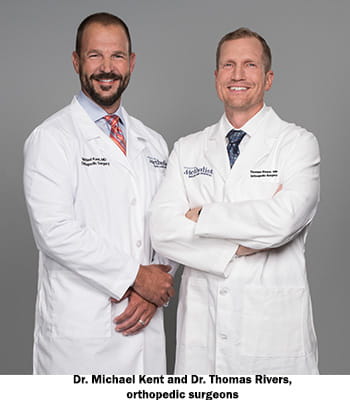 Both Rivers and Kent are highly regarded orthopedic surgeons and sports medicine specialists who have served Fort Bend County and surrounding areas for over 13 years. Their addition to the staff of skilled, experienced physicians at Houston Methodist Orthopedics & Sports Medicine further solidifies the facility's leadership position as a center of excellence.
Kent received his doctor of medicine degree and completed his residency at The University of Texas Health Science Center at Houston. Kent is board certified and treats both children and adults, including athletes and active older individuals. He focuses on a wide range of problems, ranging from acute sports injuries to chronic degenerative conditions. Kent performs total knee arthroplasty on an outpatient basis, allowing patients to go home the same day and return to a productive lifestyle quicker.
Kent has served on the Justin Sports Medicine Team for the RodeoHouston and served as the team physician for Houston Baptist University, Seven Lakes High School and Needville High School. He has been on the medical team for the Sugar Land Skeeters and has been the club physician for Eclipse Soccer Club and treats runners and endurance athletes at Texas Running Company in Sugar Land.
"Houston Methodist Orthopedics & Sports Medicine offers the most comprehensive, state-of-the-art technology and services for patients, from professional athletes with the most complex issues to individuals with common injuries or problems," Kent said. "I am proud to be joining the Houston Methodist team where the goal is to deliver an unparalleled patient experience which allows patients to quickly return to their active and healthy lives."
Rivers is a board-certified surgeon who specializes in general orthopedics with an emphasis on treating sports-related injuries. After earning his undergraduate and doctor of medicine degrees from Texas A&M University, Rivers completed a diagnostic radiology residency at Scott & White Memorial Hospital in Temple, Texas as well as an orthopedic residency at the University of Mississippi Medical Center in Jackson, Miss.
Rivers has worked with many local high schools including, Foster High School, Fort Bend Christian High School, Brazos High School and Sealy High School. He has also worked with the Sugar Land Skeeters and RodeoHouston.
"I place great value on involving my patients in treatment decisions and developing a plan that suits their individual needs and goals," Rivers said. "The team at Houston Methodist Orthopedics & Sports Medicine shares that philosophy and I am excited to join in their long tradition of providing outstanding orthopedic and sports medicine care."
Kent and Rivers will also be involved with the Houston Methodist Orthopedic Injury Clinic at Sugar Land, which provides extended hours and walk-in services for residents of Fort Bend and surrounding areas who need to see an orthopedic specialist right away. The clinic evaluates and treats patients suffering from acute orthopedic injuries such as sprains or strains, minor dislocations, fractures or broken bones, sports injuries, torn ligaments, injured tendons, painful or swollen joints or possible concussions.
To make an appointment with either Kent or Rivers or for more information on the Houston Methodist Orthopedic Injury Clinic, visit houstonmethodist.org/orthopedics-sl or call 281.201.0409. Visit our Facebook page at fb.com/methodistsugarland for the latest news, events and information.