Dr. Asha Wurdeman joins Houston Methodist Sugar Land Hospital to create a new palliative care program
Sugar Land - April 19, 2018
Sugar Land - April 19, 2018
Asha Wurdeman, D.O., has joined the medical staff at Houston Methodist Sugar Land Hospital to develop a palliative care program that will provide specialized care and support to patients undergoing complex treatments.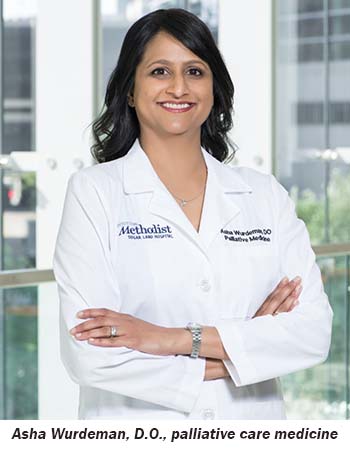 Palliative medicine is a rapidly growing specialty that focuses on relieving the symptoms, pain and stress that patients experience during times of intense treatment. Wurdeman will work with Houston Methodist Sugar Land physicians and nursing staff to help patients – and their family members – cope more effectively with the care they receive.
"Palliative care is really about understanding each patient's unique situation and helping develop strategies for improving the effectiveness of medical care during a time of great stress, when patients and their families are dealing with complex, often difficult treatments for serious illnesses or injuries," Wurdeman said. "Aggressive care can often create its own special issues, such as nausea, side effects or pain, and palliative care specialists work to solve these problems."
Palliative care physicians also serve as liaisons between medical specialists and family members – explaining difficult concepts, answering questions and listening to concerns.
"People often wish they were healthy enough not to need a hospital stay," Wurdeman said. "Having an advocate who can take the time to listen and help solve issues is invaluable."
Wurdeman earned her doctor of osteopathic medicine degree from Midwestern University in Glendale, Arizona, and completed her residency in family medicine at St. Joseph's Hospital and Medical Center in Phoenix, along with a fellowship in geriatric medicine/palliative medicine at Kaiser Permanente in Los Angeles. She previously served as medical director of palliative care at CHI Health/Alegent Creighton Clinics in Omaha, Nebraska, before moving to Houston to take a similar role.
"I am excited to have the opportunity to build a palliative care program at Houston Methodist Sugar Land," Wurdeman said. "I know we can make a significant difference in the lives of our patients and their loved ones."
To learn more about Houston Methodist Sugar Land Hospital, visit houstonmethodist.org/sugarland or our Facebook page at fb.com/methodistsugarland for the latest news, events and information.