Barbara and President George H.W. Bush honored
Houston - May 3, 2018
Houston - May 3, 2018
Houston Methodist Hospital names atrium in new Walter Tower
after former President and First Lady
Houston Methodist has named the atrium in its new Paula and Joseph C. "Rusty" Walter III Tower the Barbara and President George H.W. Bush Atrium in honor of the past president and beloved first lady.
At an event Wednesday, the three-story atrium was dedicated to the Bushes along with the unveiling of a portrait of them -- a couple married for more than 70 years before her recent death. CBS Sports Commentator Jim Nantz emceed the event and the Bushes' son Neil Bush spoke on behalf of the family and expressed gratitude to Houston Methodist and the city of Houston for their outpouring of love and support for his mother.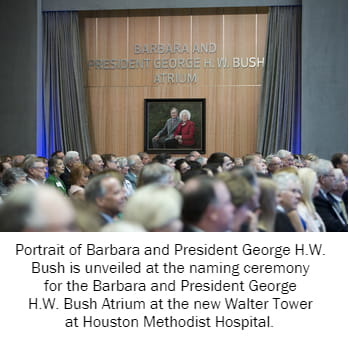 "The Bushes have always been a part of our Houston Methodist family and we all mourn the loss of Mrs. Bush, a truly wonderful woman," said Marc L. Boom, M.D., president and CEO of Houston Methodist. "We are proud to dedicate this warm and welcoming space in this beautiful new building to them."
The Paula and Joseph C. "Rusty" Walter III Tower was named in recognition of the family's $101 million gift to Houston Methodist and is a 22-story, $700 million patient tower housing 366 new beds and state-of-the-art technology to better serve the community and the institution's growing patient population.
Within the tower is a 3-story atrium that features the 1963 "Extending Arms of Christ" mosaic mural designed by Bruce Hayes and constructed in Florence, Italy, which was recently restored and relocated from the Fannin Street entrance of Houston Methodist Hospital. This 1.5 million-tile mosaic brings the history of the hospital into this beautiful new space. It is dedicated in honor of Florence Eberhardt, by her daughter Lois E. Davis and her husband Carl A. Davis.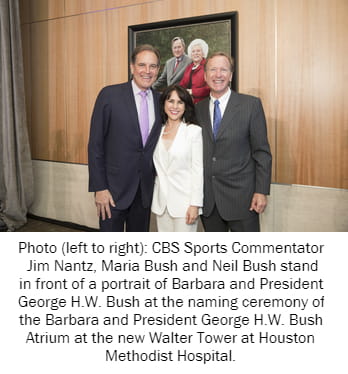 The atrium is designed to be a multisensory experience, with large skylights providing natural light. The Barbara and President George H.W. Bush Atrium is the hub connecting the new Walter Tower to the rest of the campus.
"Barbara and I were very honored that Houston Methodist wanted to name its beautiful, new atrium after us as we have long admired this institution for its values, its commitment to excellence, and its faith-based mission," President Bush said. "After spending so much time here in recent years, Barbara and I were worried we might wear out our welcome. Instead, this wonderful place of healing which has done so much to care for us continues to give."
The Bushes recently made a gift to Houston Methodist and others can contribute in honor of the Bushes to programs supporting research, education and patient care throughout the Houston Methodist System. A prestigious group has been assembled to endorse the naming of the Bush Atrium, including Secretary James and Mrs. Susan Baker, Bill and Peggy Barnett, The Honorable Charles and Mrs. Anne Duncan, Rich and Nancy Kinder, and Jim and Courtney Nantz.
For more information about Houston Methodist, visit www.houstonmethodist.org or follow us on Twitter and Facebook.