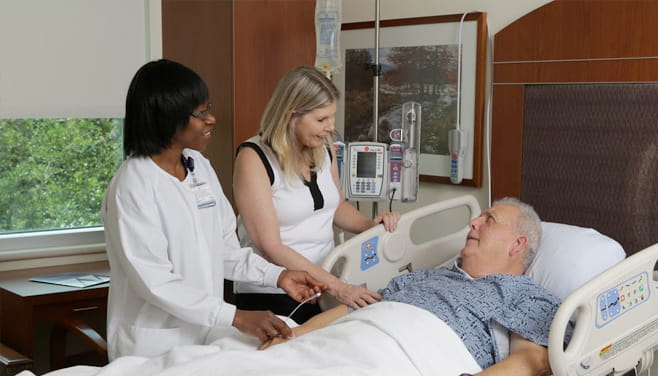 Houston Methodist Continuing Care Hospital is a long-term acute care hospital (LTACH) that proudly serves the Greater Houston area, focused on the needs of patients requiring extended hospitalization. Houston Methodist Continuing Care Hospital services include the following:


Pulmonary care management for ventilator-dependent patients, or those with respiratory failure
Complex wound care
Infectious disease management, requiring long-term intravenous or antibiotic therapy
Post-surgical complication management
Hemodialysis or peritoneal dialysis
Trauma and neurological injury management
Pain management
Rehabilitation therapies (physical, occupational and speech)
Houston Methodist Continuing Care Hospital is a fully accredited specialty hospital, licensed by the state of Texas, and is Medicare certified. We accept most insurance plans and Medicare.

Referral and Admissions
Many patients require extended hospitalization after a short stay in an acute-care hospital. LTACHs like Houston Methodist Continuing Care Hospital provide patients with daily care from a dedicated medical team for a longer period of time, typically 18 to 25 days, before they are well enough to return home or transition to an appropriate non-acute care facility.

The admission route begins when a patient is referred to an LTACH by a health care provider, insurance company or family member. Once referred, each patient is evaluated to ensure he or she meets the admission criteria. At Houston Methodist Continuing Care Hospital, we believe involving the patient's family in the care process is essential, and we welcome them to participate every step of the way. For more information, contact the referral line by calling 832.522.5822.

After admission, our interprofessional care team, comprising physicians from multiple specialties, nurses, rehabilitative therapists, case managers, social workers, quality specialists, respiratory therapists and dietitians, works closely with patients and families to develop a treatment plan with specific services and goals to fit their unique needs.

The medical staff at Houston Methodist Continuing Care Hospital includes board-certified specialists in pulmonary and critical care, neurology, internal medicine, infectious disease, cardiology, oncology, wound care and hyperbarics, surgery, and many others.

Medical Records
For information about medical records, visit our Health Information Management page.