In Memoriam: Dr. Mark Hausknecht
July 20, 2018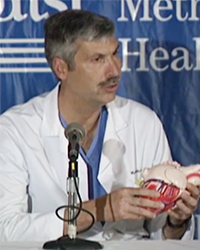 I'm very sorry to inform you that Dr. Mark Hausknecht, a cardiologist who was an important member of the Houston Methodist medical staff and the DeBakey Heart & Vascular Center, was tragically shot and killed this morning while riding his bicycle to work. Mark was a leader in the Houston Cardiovascular Associates and specialized in cardiovascular disease. He received his medical degree from Baylor College of Medicine and completed his residency and fellowship at The John Hopkins Hospital. He is a longtime Houston Methodist-affiliated physician and has been in practice for almost four decades.
His patients appreciated his kind bedside manner and the extra time he took to answer their questions and fully explain their condition and treatment. We will all miss seeing Mark in the hallways and seeing patients in the cath lab and CCU, where he was known as a compassionate physician with a phenomenal bedside manner. Our employees who worked with him said patients were so proud to call him their doctor.
Not only was he revered by his patients but Mark was highly regarded among his peers and colleagues. He was recently recognized as a Super Doctor, a listing of outstanding doctors who have attained a high degree of peer recognition or professional achievement.
We wish Mark's family and friends peace and prayers as they cope with their loss.
Marc L. Boom, M.D.
President and Chief Executive Officer