Center for Immunotherapy Research

From preclinical research projects on immunotherapy-based drug development to first-in-human clinical trials, Houston Methodist researchers are devoted to advancing ground-breaking immunotherapy-based approaches to treat a wide variety of diseases, including aggressive cancers.
Directed by
Shu-Hsia Chen, PhD
, the Emily Herrmann Chair in Cancer Immunotherapy, the Center for Immunotherapy Research was recently established, boasting a team of world-class researchers with a wide range of expertise. Prior to joining Houston Methodist, Chen was a tenured professor in the Department of Oncological Sciences and Surgery in the Icahn School of Medicine at Mount Sinai in New York where she developed novel therapeutic strategies for treating cancer, autoimmune and chronic inflammatory diseases.
Chen's vision for the Center for Immunotherapy Research is to drive the bench-to-bedside translation of breakthroughs that focus on the modulation of the tumor microenvironment, control immune checkpoints, and novel immunotherapy-based strategies for treating cancer.
Ping-Ying Pan, PhD
, the center's codirector, will also work closely with the
Immunobiology and Transplant Science Center
at Houston Methodist to develop immunotherapies that are aimed at helping to prevent transplant rejection and treat autoimmune conditions.
---
Center Director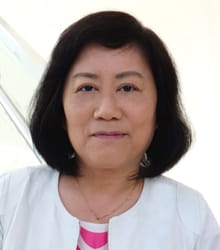 Shu-Hsia Chen, PhD
Director, Center for Immunotherapy Research
Emily Herrmann Chair in Immunology Research, Cancer Center
Houston Methodist