Medical Laboratory Science Education Program

Houston Methodist Hospital Medical Laboratory Science Program is a 12-month professional course of study, which is fully accredited by the National Accrediting Agency for Clinical Laboratory Sciences (NAACLS). Upon successful completion of this course of study, you will qualify for the examination and certification by the board of certification of the American Society of Clinical Pathology (ASCP).

For more information on NAACLS, contact:

National Accrediting Agency for Clinical Laboratory Sciences (NAACLS)
5600 N. River Road
Suite 720
Rosemont, IL 60018-5119
Phone: 773.714.8880
Fax: 773.714.8886

Mission
The mission of this program is to provide superior education and prepare competent medical laboratory scientists and medical technologists with the knowledge, skills and attitudes that are required to fulfill current and future professional roles and leadership positions as members of the health care team.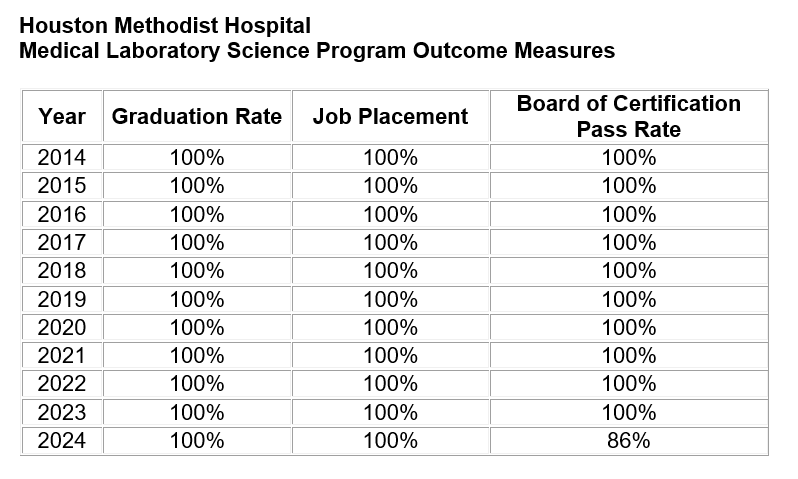 The program offers many courses:
Clinical Biochemistry
Clinical Microbiology and Virology
Clinical Hematology
Clinical Mycology
Clinical Microscopy
Clinical Immunohematology
Clinical Coagulation
Phlebotomy
Clinical Immunology
Introduction to Management and Education in the Laboratory
Management and Education
Clinical Parasitology
Research Project
Clinical Pathological Correlation
During each of these courses, your classroom lectures will be integrated with your technical experience. You will receive instruction on instrument or method principles, as well as procedures and problem solving techniques from medical laboratory scientists in the hospital laboratories. You will receive classroom lectures from the primary instructor covering laboratory methods and principles. In addition, the instructor will review with you abnormal patient results and describe the probable accompanying disease, the altered physiology and the laboratory tests used to confirm the diagnosis or treat the patient. Courses are taught within this large teaching institution where clinical and academic faculty work together.
Houston Methodist is a teaching hospital affiliated with top-ranked Weill Cornell Medical College, New York Presbyterian Hospital, the University of Texas Health Science Center at Houston and the University of Texas Medical Branch (UTMB) at Galveston. Houston Methodist also has affiliations with the University of Houston, Rice University, Baylor College of Medicine and others. Because of our close association with the medical schools, several opportunities are available to you. At the end of the year, physicians and other health care professionals that focus on the correlation of laboratory analyses and pathology of disease give lectures. Additionally, students are encouraged to attend the medical conferences presented by physicians from various medical specialties.
The curriculum is designed not only to assure the skills and knowledge necessary to become a capable entry-level Medical Laboratory Scientist (formerly known as Clinical Laboratory Scientist/Medical Technologist), but also to provide for a variety of career opportunities. Courses are given in educational methodologies and management principles. An opportunity is provided for independent research and presentation of a select topic. Thus, one of the strengths of the program is the professional versatility.
Contact Us
Contact the
program director
for more information.