Speak With Our Team Members for More Information or to Schedule an Appointment
Speak With Our Team Members for More Information or to Schedule an Appointment
As an international patient, you deserve and can expect outstanding care when you travel to Houston Methodist. We are on the leading edge of health care, providing advanced treatments for even the most complex conditions. And, our team is pioneering the treatments of tomorrow with our world-class medical research.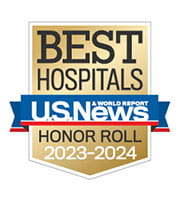 These are just some of the reasons Houston Methodist Hospital is the top-ranked hospital in both Houston and Texas, as noted by U.S. News & World Report. We are also the only Texas hospital named to the magazine's Honor Roll list of the best hospitals in the U.S.
Centers of Excellence
Our Centers of Excellence are at the core of our medical care. Our services in these disciplines are ranked as some of the finest in the U.S. Patients from all over the world come to us for our expertise in treating some of the most complex cases in the following medical specialties:
Learn more about our Centers of Excellence.
Additional Services
Regardless of your medical conditions or concerns, you can find the help you need from our team of experts. You can access our entire range of leading medical specialties, such as:
Explore these and other services we offer.