Orthopedics & Sports Medicine

Speak With Our Team Members for More Information or to Schedule an Appointment
Speak With Our Team Members for More Information or to Schedule an Appointment

Conditions that affect your bones, joints, muscles, nerves or tendons require comprehensive care from a team of experts — care at a level that might not be available in your home country. That is why patients from around the world come to Houston Methodist to seek treatment from our orthopedic surgeons and sports medicine specialists.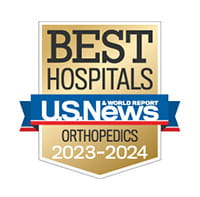 Our orthopedics and sports medicine team includes more than 100 highly trained orthopedic surgeons and sports medicine doctors who perform more than 20,000 procedures each year. We are the top-ranked hospital in both Houston and Texas, as noted by U.S. News & World Report, and we are one of the best hospitals for orthopedics in the U.S.
International patients travel to Houston Methodist for the high-quality care we provide. Our unmatched expertise — combined with our advanced MRI (magnetic resonance imaging), X-ray and other imaging technology — means you and your doctor can make the most informed decisions possible for your health and well-being. In some cases, patients who have been told by doctors in their home countries that they need extensive surgery to treat an orthopedic condition experience a complete recovery with less invasive treatments after consulting with our team. If you do need surgery, we often can speed your recovery process through innovative techniques and minimally invasive procedures.
In addition, we will customize your treatment plan to your unique needs, taking into account cultural and religious requirements, favorite activities and your personal goals. Some international patients complete their entire physical therapy course in Houston, while others begin physical therapy in Houston and then finish it in their home countries. You and your doctor will decide which option is best for you. We also offer patients virtual physical therapy appointments to stay connected with their Houston Methodist care team after they return home.
Our Orthopedic Services
We provide the full array of orthopedic care to our international patients. Our services include:
Arm, hand, wrist and elbow care
Foot and ankle care
Hip care and replacement
Joint replacement
Knee care and replacement
Orthopedic neck and spine care
Orthopedic oncology (for cancers of the bones, muscles or soft tissue)
Orthopedic surgery
Shoulder care
Our Sports Medicine Services
Our sports medicine specialists care for Houston's premier professional sports teams, fine arts organizations and casual sports enthusiasts. By working with elite athletes, we're improving the quality of care for all patients. Some of the many sports-related injuries and conditions our team treats include:
Acute injuries, including sprains, strains and fractures
Concussions and head injuries
Overuse injuries, including injuries to the rotator cuff, stress fractures, tendonitis and other conditions
Get the Help you Need for Orthopedic and Sports Medicine Conditions
Contact our Global Health Care Services team to arrange an appointment with one of our orthopedic surgeons or sports medicine specialists. You can also learn more about how to become our patient.
If you would like more information about Houston Methodist's orthopedics and sports medicine care, visit our English-only Orthopedics page or our English-only Sports Medicine page.