Speak With Our Team Members for More Information or to Schedule an Appointment
Speak With Our Team Members for More Information or to Schedule an Appointment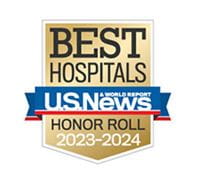 Our doctors, nurses and staff members at Houston Methodist are committed to providing a higher level of care to all of our patients. No matter where you are from, you can expect treatment that is personalized for you and your unique needs. That is one of the many reasons U.S. News & World Report has ranked us as the top hospital in both Houston and Texas and one of the top hospitals in the U.S. in 10 adult specialties.
In addition to our Centers of Excellence, international patients often come to Houston for our expertise in several medical specialties. For example, we are among the top-ranked hospitals in the U.S. for our care in diabetes and endocrinology, which deals with disorders that affect the body's hormones. Our team is also one of the leading providers of gynecological care as part of our women's health services.
We understand the need for sensitive, understanding care in a variety of specialties. Our urology team offers exceptional service for patients who need help with conditions affecting the urinary tract and the male reproductive system. We are dedicated to providing complete care for men as part of our men's health services.
Apart from specific conditions, we cater to busy international patients who want to stay healthy and reduce their risk for medical conditions. Our Executive Health program helps you maintain your personal health without excessive time commitments.
Get Started With Your Care at Houston Methodist
Contact our Global Health Care Services team to schedule an appointment for any of our services. You can also find out how to become our patient.