Why Choose Houston Methodist?
Speak With Our Team Members for More Information or to Schedule an Appointment
Speak With Our Team Members for More Information or to Schedule an Appointment
There are several U.S. hospitals that cater to the needs of international patients. But no other hospital or health care provider offers the level of service and support that we do here at Houston Methodist. We are the right choice for the care you need.
#1 Hospital in Texas for Patient Care & Safety*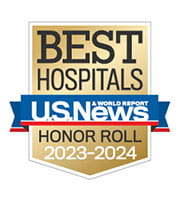 U.S. News & World Report has named Houston Methodist Hospital the Best Hospital in Texas* for 12 years in a row. Houston Methodist is nationally ranked in 10 specialties, with nine specialties ranked in the top 20, and two of those ranked in the top 5. For more than 100 years, we have provided the best — and safest — clinical care, advanced technology and patient experience. That is our promise of leading medicine.

Six Houston Methodist hospitals have received the Vizient Bernard A. Birnbaum, MD, Quality Leadership Award presented annually to a small number of hospitals nationwide that demonstrate superior performance. The top performer designation recognizes hospitals in different categories that demonstrate excellence in delivering high-quality care. These measures include safety, mortality, effectiveness, efficiency and patient centeredness.

Our international patients receive the most innovative treatments available. For example, we routinely perform surgeries with minimally invasive techniques, which can let you recover faster, shorten your hospital stay and reduce post-operative pain. Our team is developing new treatments and medications for a range of neurological conditions, from stroke and brain tumors to Parkinson's disease. And, our hospital is home to the Triple Negative Breast Cancer Clinic, which cares for patients who have been diagnosed with this aggressive and potentially life-threatening form of breast cancer.

In addition, we are on the forefront of researching tomorrow's most advanced medical therapies with our clinical trials. These intense research studies allow us to provide cutting-edge treatment options that are not yet widely available and may do more to treat your condition than the current standard of care.

Learn more about our medical services.
*Two-way tie


The Best Choice for Your Care
Our Global Health Care Services team coordinates every aspect of care for our international patients, from the first phone call to getting you ready to go home after treatment. We make sure you have the support and resources you need so you can focus your attention on getting well.

Houston is a diverse city, and our Global Health Care Services team members come from many cultural backgrounds. We have unique experience in the concerns and needs of patients who travel from other countries to receive a higher level of care. Our dedication to excellence in international care starts at the top with our executive team members, who set the high standards we achieve every day.

Our doctors and researchers are constantly innovating and breaking new ground in our treatment options, and we continuously update our services to provide you the best care possible. Keep up to date with the latest developments at Houston Methodist in our News section.

Wherever you are in the world, there's a Houston Methodist international location or in-country patient liaison near you, ready to answer your questions in your language and help you get the care you need. Explore our global locations.

We are here to answer your questions and give you all the information you need to make the best possible decisions about your health. Learn more about us and how we can help you.