Speak With Our Team Members for More Information or to Schedule an Appointment
Speak With Our Team Members for More Information or to Schedule an Appointment

If you have been diagnosed with a neurological condition, it is understandable to be concerned. These conditions, which affect the brain, spinal cord or nerves, can have serious effects on your quality of life. Houston Methodist Neurological Institute is one of the leading centers for neurology and neurosurgery in the U.S. We offer unparalleled comprehensive care for patients with neurological disorders.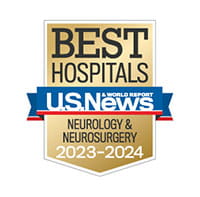 Neurological issues require expert treatment and management — and that is what you can expect at Houston Methodist. Our team includes more than 100 neurologists and neurosurgeons, as well as other specialists and caregivers who focus on the needs of patients with neurological disorders. We are the top-ranked hospital in both Houston and Texas, as noted by U.S. News & World Report, and we are one of the best hospitals for neurology and neurosurgery in the U.S.
We see more patients for neurological and neurosurgical care than nearly any other hospital in the U.S. - more than 7,000 cases in 2019 alone. Research has shown that patient outcomes improve at hospitals that care for more patients. Our quality data and metrics demonstrate the high level of care you can expect from our doctors.
Our Neurology and Neurosurgery Services
We treat a wide range of neurological conditions for international patients, including:
Alzheimer's disease and other cognitive (thinking and memory) disorders
Brain tumors
Cerebrovascular diseases – conditions that affect blood flow to the brain, such as brain aneurysms (bulges in the brain's blood vessels) and brain and spinal vascular malformations (abnormal blood vessels)
Concussions
Epilepsy and seizures
Headaches and migraines
Movement and functional disorders – conditions that can affect movement, thinking and many other bodily functions, such as Parkinson's disease
Neuromuscular disorders – conditions that affect muscles and the nervous system's ability to control them, including multiple sclerosis (MS), amyotrophic lateral sclerosis (ALS, also known as Lou Gehrig's disease or motor neuron disease) and muscular dystrophy
Psychiatric conditions
Sleep disorders
Speech, language and voice disorders
Spine disorders
Stroke
You and your doctor will work together to create a treatment plan that is customized to your unique needs and concerns. In addition to the treatment options we provide as part of the standard of care for your condition, you may be able to take part in one of our clinical trials. These research studies can allow you to access the latest treatments and medications for neurological conditions before they are widely available elsewhere. We are pioneering the future of neurological care with innovations such as:
A revolutionary immunology study to slow the progression of ALS through the expansion of protective T-regulatory cells in patients
Performing deep, subcortical surgery in historically inoperable areas of the brain
Groundbreaking neuroimaging studies to identify, track and potentially treat the early signs of Alzheimer's disease
A collaborative study with Harvard Medical School/Massachusetts General Hospital to find and repurpose existing drugs to combat Alzheimer's
Clinical trials using stem cell therapy to prevent major disabilities caused by stroke
The development of a transcranial cap that uses magnetic stimulation to enhance recovery after stroke
The development of an innovative form of gene therapy that uses a virus to attack and successfully treat glioblastoma
Regenerative medicine research to potentially restore movement and function to patients with trauma and spinal cord injury
Deep brain stimulation for treatment of movement disorders such as Parkinson's disease
Collaboration with the NFL and GE in a four-year study to improve detection of brain damage after head injury
Take the Next Step for Your Neurology or Neurosurgery Care
To arrange an appointment with one of our neurologists or neurosurgeons, contact our Global Health Care Services team, or explore how to become our patient.
To learn more about Houston Methodist's neurology and neurosurgery services, visit our English-only Neurology & Neurosurgery page.