Gastroenterology & GI Surgery
Speak With Our Team Members for More Information or to Schedule an Appointment
Speak With Our Team Members for More Information or to Schedule an Appointment

If you have a condition that affects the digestive system, including diseases of the esophagus, stomach, liver, pancreas, gall bladder, biliary tract, intestines and colon, you need complete care from a team of experts. The gastroenterology and gastrointestinal (GI) surgery teams at Houston Methodist provide comprehensive treatment for these conditions.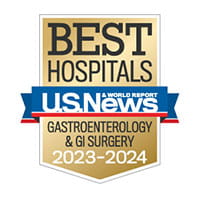 Patients from all over the world seek the expertise of our gastroenterology and GI surgery team, which includes more than 100 highly skilled experts. We are the top-ranked hospital in both Houston and Texas, as noted by U.S. News & World Report, and we are one of the best hospitals for gastroenterology and GI surgery in the U.S.
Our Gastroenterology and GI Surgery Services
We offer a wide range of gastroenterology and GI surgical services to international patients — everything from routine colonoscopies and other screenings to the most advanced minimally invasive surgical techniques. Our patients have access to the latest technologies available for the diagnosis of digestive disorders. Our comprehensive treatment programs are customized for each individual patient and range from simple lifestyle changes to advanced surgeries.
In many cases, patients with GI issues need care beyond that provided by their gastroenterologist or GI surgeon. Our team-based approach to care brings in a wide range of providers, including neurologists, rheumatologists, dietitians and psychologists, to ensure you receive the best and most thorough diagnostic and therapeutic options for your unique disorder.
Some of the many conditions our specialists treat include:
Cancers of the gastrointestinal system, including colorectal cancer
Diverticulitis
Gallstones
Gastroesophageal reflux disease (GERD)
Hiatal hernia
Inflammatory bowel disease (IBD)
Lactose intolerance
Liver disease
Pancreatic disease
Ulcers
Take the Next Step for Your Gastrointestinal Health
To find out how to arrange an appointment with one of our gastroenterologists or gastrointestinal surgeons, contact our Global Health Care Services team, or explore how to become our patient.
If you would like to learn more about Houston Methodist's gastroenterology and GI surgery services, visit our English-only Gastroenterology & GI Surgery page for more information.