Diabetes and Endocrinology
Speak With Our Team Members for More Information or to Schedule an Appointment
Speak With Our Team Members for More Information or to Schedule an Appointment

Endocrinology involves the treatment of disorders that affect the body's hormones, and that impact many of the body's systems — everything from metabolism and growth to bone development and fertility. One of the most common endocrine disorders is diabetes, in which blood sugar is too high because of the body's inability to make or use the hormone insulin as well as it should.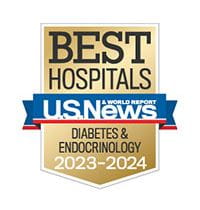 If you have been diagnosed with diabetes or another endocrine disorder, you need treatment and management at a level that might not be available in your home country. That is why patients from all over the world come to Houston Methodist to seek a higher level of care from our team of experts. We are among the top-ranked hospitals in the U.S., as noted by U.S. News & World Report, and we are one of the best hospitals for diabetes and endocrinology care in the nation. Our endocrinology team includes nearly 50 specially trained endocrinologists who focus on the needs of patients like you.
Our hospital stands apart because we care for each patient as a whole person, not as a condition or a set of symptoms. You and your endocrinologist will work together to create a treatment plan that is personalized to you and your unique concerns, needs and goals. As appropriate, our team also works collaboratively with experts in the Houston Methodist DeBakey Heart & Vascular Center, Houston Methodist J.C. Walter Jr. Transplant Center and Houston Methodist Weight Management Center to provide comprehensive care.
Our Endocrinology Services
If you need help treating or managing diabetes, our endocrinologists offer comprehensive care for patients with either type 1 or type 2 diabetes, including inpatient care if necessary. Though there is no cure for diabetes, our team can help you successfully manage the disease and reduce your risk for serious complications, including heart attack or stroke.
Our endocrinologists also have vast expertise in treating various types of thyroid disease, including both hyperthyroid and hypothyroid conditions. We also have a dedicated team for treating thyroid cancer. In addition to diabetes and thyroid conditions, our endocrinologists can diagnose and treat the full range of endocrine disorders, including:
Acromegaly
Addison's disease
Cushing's syndrome
Hyperparathyroidism
Hypoparathyroidism
Hypopituitarism
Low testosterone (Low T), one of the components of our Men's Health services
Metabolic disorders caused by Tay-Sachs disease, Gaucher disease, kidney disease, injuries, infections or other lifestyle impacts
Ovarian cysts and polycystic ovary syndrome (PCOS), one part of our Women's Health care
Pancreatitis
Pheochromocytomas
Premature menopause as part of our Women's Health care
Testicular cancer as part of our cancer care
Get Help for Your Endocrine Disorder
Contact our Global Health Care Services team to arrange an appointment with one of our endocrinologists. You can also learn how to become our patient.
If you would like more information about Houston Methodist's endocrinology care, visit our English-only Endocrinology, Diabetes & Metabolism page.