Speak With Our Team Members for More Information or to Schedule an Appointment
Speak With Our Team Members for More Information or to Schedule an Appointment

Urology involves the treatment of conditions that affect the urinary tract in either males or females, as well as conditions that affect the male reproductive organs. If you have been diagnosed with one of these conditions, you need advanced care from a team that has your best interests in mind. That is what you can expect when you come to Houston Methodist.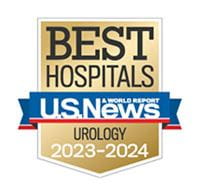 We are one of the top-ranked hospital in the U.S., as noted by U.S. News & World Report. Our team includes nearly 70 urologists, who offer unmatched expertise in urology care, from routine treatment to the most challenging and complex cases.
When you come to Houston Methodist, you are more than your medical condition. Our team will care for you as a whole person. We will work with you to create a personalized treatment plan that is best suited for your condition, while addressing your unique needs and concerns.
Our Urology Services
We have one of the most advanced robotic operating rooms in the U.S. This allows our surgeons to use minimally invasive surgery, which often means smaller incisions, less pain and faster recovery from surgery. Our urological surgeons treat a wide range of complex urological conditions, including:
Incontinence
Pelvic organ prolapse
Various forms of cancer, including bladder cancer, kidney cancer, prostate cancer and testicular cancer
In addition, our team has vast experience treating many common urologic conditions, such as:
Benign prostatic hyperplasia (BPH)
Erectile dysfunction/impotence
Male infertility
Neurogenic bladder
Urinary tract infection (UTI)
Vasectomy and vasectomy reversal
Additionally, Houston Methodist is home to the Neurourology and Transitional Urology Clinic, which helps adolescents with neurogenic bladder or genitourinary congenital anomalies transition to an adult urological team dedicated to long-term care.
Take the Next Step for Your Urology Care
Contact our Global Health Care Services team to arrange an appointment with one of our urologists. You can also find out how to become our patient.
For more information about Houston Methodist's urology care, visit our English-only Urology page.