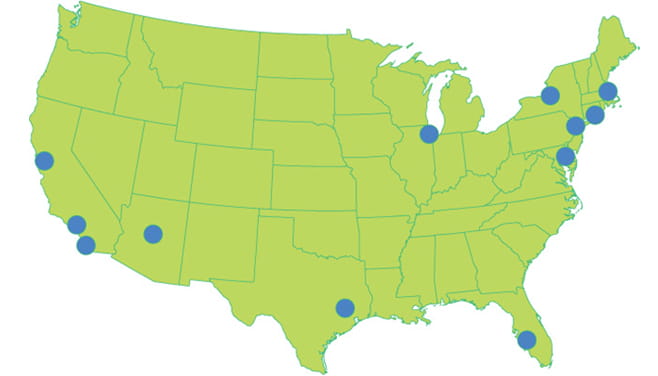 National Cancer Institute (PSOC) Collaborative Network

Supported by the National Cancer Institute (NCI), the Center for Transport Oncophysics (CTO) is one of 12 centers across the United States. Part of a collaborative network, CTO is exploring new and innovative approaches to improve the understanding and control of cancer. The network brings together both teams and individual scientists from the fields of physics, mathematics, chemistry and engineering to examine cancer, using approaches that have not been utilized in cancer research to date.

The NCI's goal is to join these often-disparate areas of science through its various support mechanisms, including centers of excellence, to better understand the physical and chemical forces that shape and govern the emergence and behavior of cancer at all levels. The NCI anticipates that this initiative will foster the development of innovative ideas and new fields of study based on knowledge of the biological and physical laws and principles that define both normal and tumor systems.
Arizona State University, Tempe, AZ
Principal Investigator: Paul Davies, PhD
Cornell University, Ithaca, NY
Principal Investigator: Harold G. Craighead, PhD
H. Lee Moffitt Cancer Center & Research Institute,
Tampa, FL
Principal Investigator: Robert A. Gatenby, MD
Johns Hopkins University, Baltimore, MD
Principal Investigator: Denis Wirtz, PhD
Massachusetts Institute of Technology, Cambridge, MA
Principal Investigator: Alexander van Oudenaarden, PhD
Dana-Farber Cancer Institute, Boston, MA
Principal Investigator: Franziska Michor, PhD
Northwestern University, Chicago, IL
Principal Investigator: Jonathan Widom, PhD
Princeton University, Princeton, NJ
Principal Investigator: Robert H. Austin, PhD
The Scripps Research Institute, La Jolla, CA
Principal Investigator: Peter Kuhn, PhD
University of California-Berkeley, Berkeley, CA
Principal Investigator: Jan Liphardt, PhD
University of Southern California, Los Angeles, CA
Principal Investigator: W. Daniel Hillis, PhD
Houston Methodist Research Institute, Houston, TX
Principal Investigator: Mauro Ferrari, PhD

discover the difference 
Join one of the nation's leading academic medical centers