Pre-intern Bootcamp
This course, for medical students who have matched into integrated vascular surgery residencies, is designed to ease the transition from medical school to a vascular surgery residency. Medical students will learn skills which will allow them to excel on the floor and in the OR starting their first day. This course covers a three-day period, during which time the attendees will have lectures on vascular anatomy, exposures, endovascular basics, vascular ultrasound, wound care, and note writing/charting. Additionally, there are multiple practical sessions to teach endovascular skills and vascular suturing technique.
Weekly Didactics and Conferences
Each week, there are multiple mornings which are set aside for resident education in the form of didactics, conferences, case planning meetings, M&M sessions, and mock orals. The didactics sessions comprise of Vascular Surgical Core modules and other resources and follow a question based structure in preparation for the yearly VSITE examination. On Thursday mornings, our weekly case conference is held. These presentations, which are put together and presented by a trainee, review the decision making taken prior to operative intervention and include a recorded, de-identified video of the surgical procedure. All of the morning meetings are resident run and moderated by faculty, with the goal of establishing fundamental knowledge, situational application, and continuous improvement for the best possible in vascular surgical patient care. We strive to harbor an open environment of discussion and education.

Additionally, journal club is held once a month at an offsite local venue and covers two recent journal articles.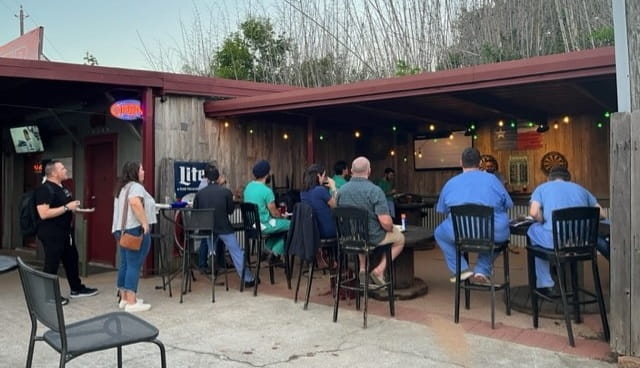 Vascular Surgical Training Association of Houston (VaSTAH)
VaSTAH is a bi-annual cadaver workshop for the integrated vascular residents and fellows with the purpose of teaching common vascular exposure anatomy and techniques. As the trainee progresses, the level of exposures taught becomes more advanced. Typically, VaSTAH spans two days, with the first day dedicated to faculty teaching the exposures and the second day consisting of a practical examination in which the trainee exposes a vessel without assistance. Examples of important exposures covered in VaSTAH workshops include below/above knee popliteal, femoral, axillary, carotid, vertebral, aortic, and mesenteric vessels.
Vascular Surgery Workshops
Hands on training and simulation lab workshops are frequently held in order to give trainees practical experience in common vascular skills and increase the comfort level in the operating room. Examples of these workshops include an endovascular sheep lab to demonstrate IVC filter placement and retrieval, a closure device workshop sponsored by industry, sessions covering correct ultrasound technique, and a ruptured AAA skills course.
Cardiovascular Fellows' Bootcamp
The CV Fellows' Bootcamp is a weekend course held annually in August. Hundreds of vascular surgery, vascular medicine, interventional radiology, and interventional cardiology fellows attend this training course. Boot Camp provides two days of expert-led lectures on the fundamentals of cardiovascular disease and management, and a one-day of hands-on training. The guiding principles for this course are "Teach broadly. Teach early. Teach basics." The vascular surgery track offers expert-led interactive lectures that are complemented with hands-on training, including demonstrations of ultrasound-guided access, dissection and exposures on cadavers, and open vascular and endovascular surgical training. The Friday sessions features intensive hands-on training at the Methodist Institute for Technology, Innovation & Education (MITIE), with two tracks (cardiology and vascular surgery) to allow specialty-specific training. This is an excellent opportunity to network, consolidate skills, and pick up tips, tricks and nuances.
Pumps & Pipes
A unique annual conference that brings together technological giants based in the city of Houston representing medicine, energy and aerospace sectors. Through this partnership between Houston Methodist, ExxonMobil, NASA and others, researchers delve into the complex technological problems facing each of those industries and see what's in "the other guy's toolkit". The goal of this problem-focused forum is to promote cross-industry collaboration and transfer of knowledge and technological know-how between industries. Pumps & Pipes was co-founded by Alan Lumsden, MD, chair of the Houston Methodist DeBakey Heart & Vascular Center. Residents are encouraged to attend and participate if they are able.
DeBakey Cardiovascular Education
Building on Dr. Michael E. DeBakey's commitment to excellence in education, Houston Methodist's DeBakey CV Education is an epicenter for cardiovascular academic and clinical educational programs that support the provision of optimal care to patients suffering from cardiovascular conditions and diseases. One of the highlights of Debakey CV Education is our Youtube channel, which features hundreds of in-depth surgical videos created by the trainees and faculty, advanced lectures on the latest cardiovascular topics, interviews, and much more. The channel now has over 85,000 subscribers and over 13,000,000 views.
Houston Methodist Institute for Technology, Innovation, & Education (MITIE)
MITIE is one of the most advanced clinical training facilities in the world, and provides a space for health care professionals to acquire new skills and industry partners to showcase new devices. The facility has a large procedural skills area where cadaveric and animal simulation labs can take place, as well as other suites containing a 1.5T MRI, CT scanner, and hybrid OR suite for research and education purposes. The goal of MITIE is to improve patient safety through these educational pursuits and to conduct research on skills acquisition and technological development. This is the location of many of the vascular program's workshops and simulations labs.
Take a virtual tour of this cutting edge facility by clicking here.