We work with industry partners in all phases of the research process to advance medical knowledge and train the healthcare professionals of today and tomorrow. Attending or partnering with us on a DeBakey CV Education course is a great opportunity for industry to interact with our faculty and physician learners in a professional environment and give physicians the opportunity for hands-on training on your devices.
What Makes Us Unique
State-of-the-Art Facilities. The Methodist Institute for Technology, Innovation & Education (MITIESM) is a virtual hospital equipped with the latest imaging technologies, a hybrid operating room, fully customizable training stations, conference space and more. The heart of MITIE is the Med Presence Suite, an integrated learning space with individual computer stations, where learners can interact remotely with physicians in Houston Methodist operating rooms and laboratories. MITIE is directly adjacent to Houston Methodist's new clinical home, Walter Tower, allowing trainees to move seamlessly between training and clinical settings.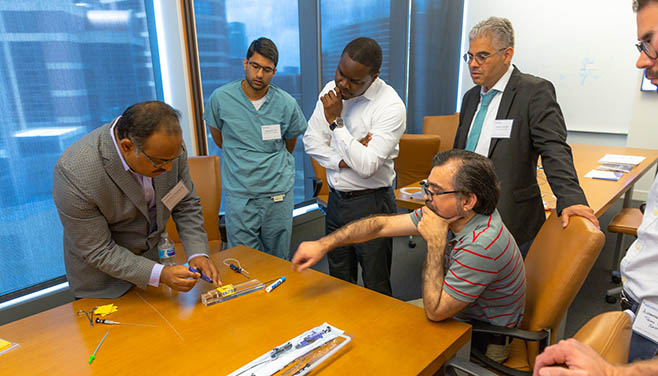 Hands-On Learning. Over 60% of our courses feature hands-on training, giving learners opportunities to hone their skills using a variety of models and simulators. We also work with industry partners to develop custom device training for their employees. Learn more >
Distance Learning. For learners that cannot join us in Houston, we offer innovative distance learning solutions to bring DeBakey CV Education to the comfort of their homes or offices. Many of our courses are live streamed around the world, and telepresence with secure bi-directional audio-visual capabilities offer unparalleled access to live surgical training. Learn more >
Audio-Visual Excellence. DeBakey CV Education's in-house production team is ready to meet all your audio-visual needs, including photography, videography, and live streaming cases from Houston Methodist operating rooms to learners in MITIE. To request A/V services, please email Tyree Horn.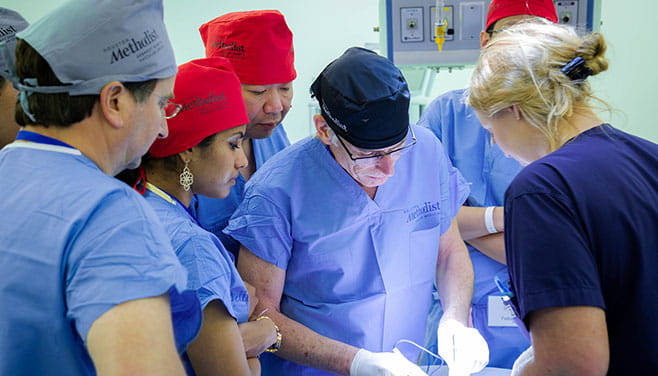 World-Class Faculty Houston Methodist DeBakey Heart & Vascular Center's faculty of renowned clinicians and surgeons are dedicated to educating the next generation of cardiovascular physicians. Our faculty—along with experts from around the world—are involved with every step of event planning and teaching, ensuring that learners receive the most up-to-date and relevant clinical training. Learn more >
Dedicated CV Education Team Our multidisciplinary team of health education professionals work full time to plan and coordinate educational events. Meet us >
Prime Location. Houston Methodist is located in the heart of the Texas Medical Center (TMC) in Houston, Texas. The TMC is the world's largest medical complex, boasting eight academic and research institutions and 21 hospitals that serving over 7 million visitors per year. Houston's vibrant cultural scene offers endless entertainment, and the TMC is only a short walk or train ride from dozens of world-class restaurants, museums, and art and sports venues. Visit Houston >
Preclinical device development
Houston Methodist is excited to help clients with development and preclinical testing of their medical devices. Through the Center for Rapid Device Translation, external investigators can access Houston Methodist's extensive, multifaceted facilities and experts for preclinical device testing in Good Laboratory Practice (GLP) and non-GLP environments. The Center's clinicians, scientists and professionals with laboratory and regulatory expertise can work with device companies to carry out best practices to progress medical devices through regulatory review of their technology. Learn more >
RENT Our models
DeBakey CV Education offers a variety of advanced simulation models which may be rented to help your professionals refine their skills. Please visit our Hands-On Training page for descriptions of each of our models and contact Brenda Valverde for booking.
Rent Our Training Facility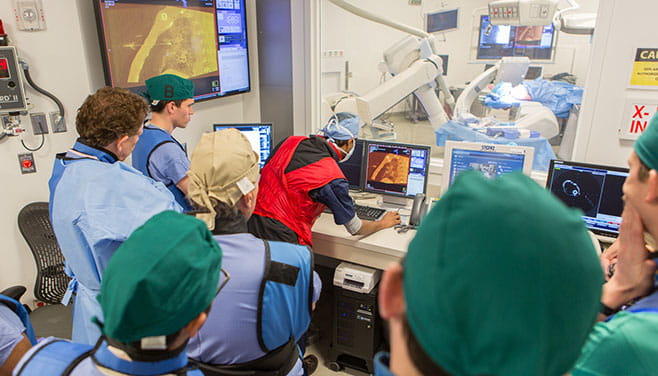 Houston Methodist offers industry partners a chance to train their employees or other learners of their choosing in an innovative, state-of-the-art space. At 40,000 square feet, the Houston Methodist Institute for Technology, Innovation & Education (
MITIESM
) is a virtual hospital and hands-on clinical training facility designed to help you test your latest technology or hone your skills. MITIE features a procedural skills laboratory with 15 operating stations; a suite of imaging operating rooms with CT, MRI, and robotically guided fluoroscopy; research operating rooms; a microsurgery suite; two surgical robots; high-fidelity simulation suites; four partial task training areas; six conference rooms, and one of the nation's only hybrid operating rooms reserved exclusively for education. With its robust array of stations, MITIE is the ideal location for nearly any hands-on training experience.
Book your event >
BOOK A MEETING
Need a space to host your next meeting? Houston Methodist offers several options, from intimate spaces in the Dunn Conference Center to the John F. Bookout Auditorium. Most rooms are equipped with AV capability and have catering options. Please contact
Brenda Valverde
for details.