Cardiovascular Fellows' Boot Camp
Boot Camp is designed for first- and second-year fellows and offers four tracks: cardiac surgery, vascular surgery, cardiology and cardiac anesthesiology. This intense training follows the guiding principles of "Teach broadly. Teach early. Teach basics." It will provide one day of hands-on cadaver and specimen lab training and two days of expert-led lectures on the fundamentals of cardiovascular disease and management. Each track is intended to provide an understanding of topics such as the following:
CARDIOLOGY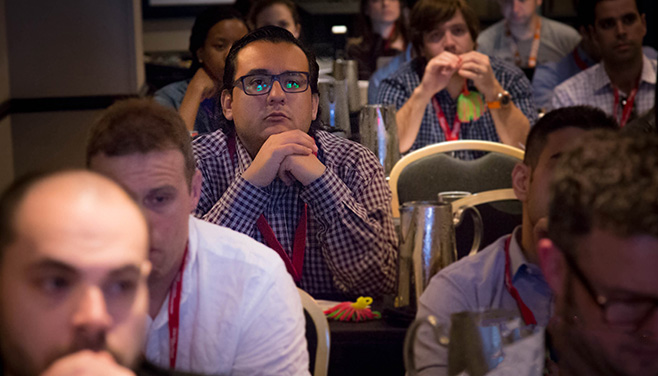 Preventive cardiology
Antiplatelet therapy
Adjunctive pharmacology for PCI
Heart failure
Rhythm disorders
Ischemic heart disease
Cardiac imaging
Structural heart disease
VASCULAR SURGERY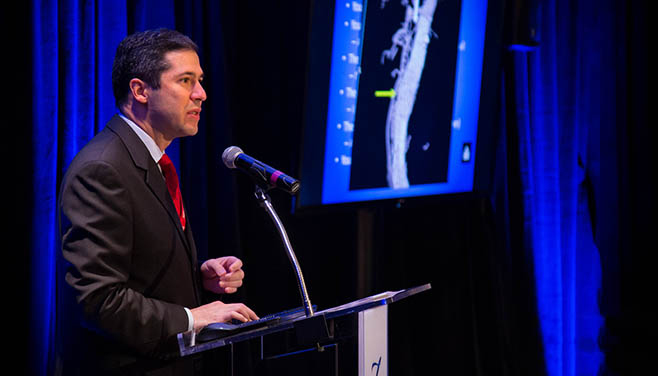 Ultrasound-guided access, dissection and exposures
Vascular and endovascular surgery
Lower extremity arterial disease
Neurovascular disease
Venous disease
Renal and visceral artery diseases
Thoracic outlet and upper extremity
Cardiac surgery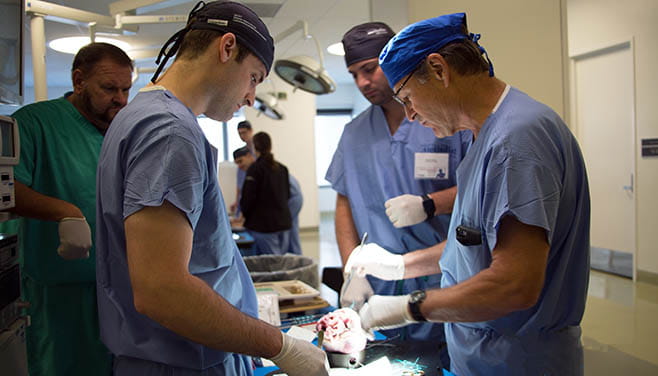 Off-pump coronary bypass
Aortic and mitral valve replacement
Maze procedures
Left atrial appendage closure
Aortic root procedures
Transcatheter aortic valve replacement
Ventricular device insertion
cardiothoracic anesthesiology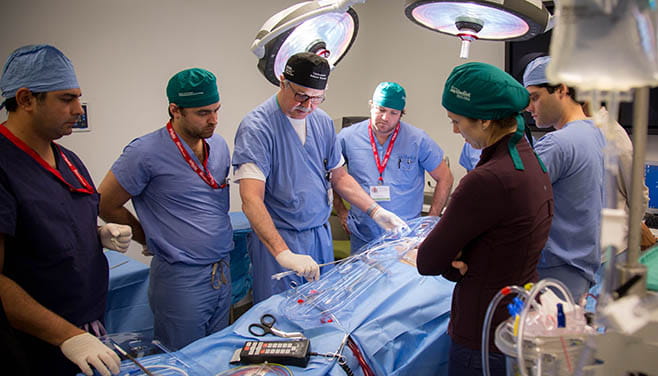 Cardiac anatomy
Echocardiography
Surgical techniques
Hemodynamic monitoring and support
Cardiopulmonary bypass
Lung isolation strategies
Ventricular device simulators
TARGET AUDIENCE
This course is intended for first-year vascular surgery, cardiology, cardiothoracic surgery, and cardiothoracic anesthesia fellows and third-year integrated vascular surgery residents.
MEDIA
Curious about what you might expect? Please visit our collection of video lectures and photos from the 2019 program: cardiac surgery, vascular surgery, cardiology, cardiac anesthesiology.
UPCOMING EVENTS
2022 Boot Camp for Cardiology and Vascular Surgery
The 2022 Cardiovascular Fellows' Boot Camp for Cardiology and Vascular Surgery Fellows will take place
August 5-7, 2022
, at Houston Methodist Research Institute's state-of-the-art
Houston Methodist Institute for Technology, Innovation & Education (MITIESM)
.
Cardiology Track
Prospective participants for the cardiology track must submit an application to be considered. Apply Now >

Vascular Surgery Track
Registration Coming Soon.
Houston Methodist Institute for Technology, Innovation & Education (
MITIESM
)
6670 Bertner Ave., 5th Floor
Houston, TX 77030