Cardiovascular Fellows' Bootcamp

August 10-12, 2018

This condensed three-day course in the fundamentals of cardiovascular sciences for fellows and residents is designed to upgrade knowledge early in training. Experience a combination of interactive didactic lectures and hands-on skills training with world-renowned faculty and hear from over 60 experts.
Target Audience
1st year fellows specializing in:

Vascular surgery
Cardiology
Cardiac surgery
Cardiothoracic anesthesiology

3rd year primary certificate vascular surgery residents
What to Expect
Boot Camp begins with one day of intensive hands-on training at the Houston Methodist Institute for Technology, Innovation & Education (MITIE
SM
) where trainees will hone their technical skills by training with cadavers and simulators. The next two days feature expert-led interactive lectures on topics such as lower extremity arterial disease, abdominal and thoracic aortic disease, venous disease, heart failure, dialysis access, cardiac imaging and structural heart disease. Trainees can choose from 4 tracks: vascular surgery, cardiology, cardiac surgery and cardiothoracic anesthesiology.
The vascular surgery track will teach ultrasound-guided access, dissection and exposures on cadavers and train attendees on open vascular and endovascular surgical techniques
The cardiology track covers topics such as TEE/TTE interpretation using simulators, emergent hands-on management, tips and tricks for vascular access, cardiac catheterization and a guided tour of cardiac and vascular anatomy from a surgeon's point of view.
The cardiac surgery track will review cardiopulmonary bypass, coronary artery bypass grafting, aortic valve replacement, mitral valve techniques, aortic root replacement and AFib ablation procedures
The cardiothoracic anesthesiology track covers surgical options in cardiac valve disease and management of cardiovascular care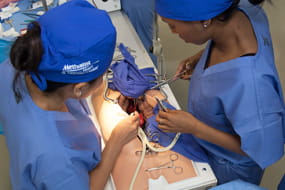 Please visit our Cardiovascular Fellows Bootcamp video collection
.
ACCOMODATIONS
Hotel Zaza
5701 Main Street
Houston, Texas 77005
Phone: 713.526.1991
Toll-Free: 888.880.3244
TRAINING LOCATION
Houston Methodist Institute for Technology, Innovation & Education (
MITIESM
)
6670 Bertner Ave., 5th Floor
Houston, TX 77030
Cost
This event is fully sponsored and free to all qualified attendees with an additional domestic travel stipend available on a first-come-first-serve basis.

To qualify for the stipend, the attendee must stay for the entire duration of the course and turn in all course evaluations.


Join us for Cardiovascular Fellows' Bootcamp 2018