Speak With Our Team Members for More Information or to Schedule an Appointment
Speak With Our Team Members for More Information or to Schedule an Appointment

If you have been diagnosed with a heart condition or a condition that affects the blood vessels, you need the latest and best treatment options from a team with world-class expertise — a higher level of care that may not be available in your home country. That is why patients worldwide choose Houston Methodist DeBakey Heart & Vascular Center.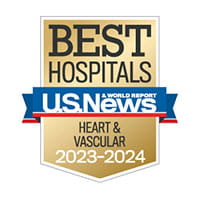 Our team includes more than 200 cardiologists, interventional cardiologists, heart surgeons and other experts in heart and vascular care. We are the top-ranked hospital in both Houston and Texas, as noted by U.S. News & World Report, and we are one of the best hospitals in the U.S. for cardiology and heart surgery.
We are dedicated to helping our patients achieve outstanding outcomes from their heart and vascular care, as shown by our exceptional outcomes. According to data from Vizient, a health care performance improvement organization, our team is ranked number 1 in the U.S. for the following heart and vascular subspecialties:
Aortic and heart-assist procedure
Cardiac arrhythmia
Endovascular cardiac valve replacement
Our cardiovascular specialists provide patients with the most advanced and innovative treatment options. We are a global leader in new, interventional cardiovascular procedures - minimally invasive, catheter-based alternatives to open heart surgery that are less painful and less risky to the patient, as well as offer dramatically quicker recovery times. We are one of the premier worldwide locations for valve disease research and treatment, have unique capabilities in the treatment of aortic disease and arrhythmias, and have developed one of the few adult congenital heart disease programs in the country.
Our Heart and Vascular Services
Our specialists treat the full range of heart and vascular conditions, including:
Atrial fibrillation (AFib)
Adult congenital heart disease
Carotid artery disease
Chest pain
Coronary artery disease
Peripheral vascular disease
Valve disease
Our nine specialized centers offer the latest and most advanced treatments for heart and vascular conditions, such as:
Aortic aneurysm repair
Aortic valve surgery
Coronary bypass surgery
Heart failure
Minimally invasive cardiac surgery
Transcatheter aortic valve replacement (TAVR), a minimally invasive procedure to replace damaged or narrowed heart valves; we are one of the most experienced TAVR sites in the United States
Vascular surgery
Ventricular assist device (VAD)
In addition to the treatment options we offer as part of the standard of care, you may be able to participate in one of our clinical trials. These studies can provide you with access to the latest treatments, medications and procedures for heart and vascular conditions before they are widely available at other centers.
Our care for you does not stop once you have completed your treatment in Houston. When you are ready to return home, we will work closely with your referring doctor to ensure you have a smooth transition to care in your home country. Your patient liaison will work with you to ensure you have the resources you need to effectively take care of yourself when you return home.
Get the Help You Need for Your Heart or Vascular Condition
To set up an appointment with one of our heart or vascular specialists, contact our Global Health Care Services team, or explore how to become our patient.
To learn more about Houston Methodist's heart and vascular services, visit our English-only Heart & Vascular Center page.