Speak With Our Team Members for More Information or to Schedule an Appointment
Speak With Our Team Members for More Information or to Schedule an Appointment
If you have been diagnosed with cancer, you need a team by your side that will help you fight your cancer with the latest treatments and techniques and provide the physical and emotional support you need along the way. Patients from all over the world come to Houston Methodist Cancer Center because of world-class care for those who have cancer.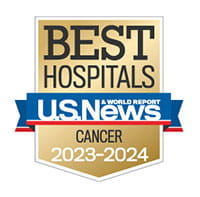 Our team includes more than 100 expert oncologists, surgeons and specialists in cancer care. Not only are we one of the top-ranked hospitals in the U.S., as noted by U.S. News & World Report, but we also are one of the best hospitals in the nation for cancer care.
We are dedicated to providing safe, effective cancer care, as shown by our high survival rates. According to data from Vizient, a health care performance improvement organization, our team is ranked within the top three U.S. health systems for the following cancer subspecialties:
Bone marrow transplant
Breast cancer
Leukemia
Ovarian cancer
Pancreatic cancer
Uterine cancer
According to the same data, we are the best-performing health system in the U.S. in terms of excellent outcomes and patient survival rates in the following subspecialties:
Brain cancer
Colorectal cancer
Cervical cancer
Kidney cancer
Liver cancer
Lung cancer
Lymphoma
What to Expect During Your Cancer Care
We will tailor your cancer care to your unique needs. Our care team includes many providers who will help you along the way, including:
Medical oncologists, who treat cancer with chemotherapy and other medications
Surgical oncologists, who remove tumors and cancerous tissue
Radiation oncologists, who use radiation therapy to shrink and destroy tumors
Specially trained cancer nurses
Cancer nutritionists, who make sure you are getting the nutrients you need during and after your cancer treatment
Your care team will evaluate all your medical records ahead of your visit to Houston and will create a treatment plan that is personalized to you and your condition. Our doctors not only provide cancer care to patients like you, but they also are on the front lines of laboratory and clinical research into the next generation of cancer treatments. In addition to the treatment options we offer as part of the standard of care for your cancer, you may be able to participate in one of our clinical trials, which can provide access — often free of charge — to the latest medications and treatments before they are available from other health care providers.
We understand that your cancer diagnosis and treatment can feel overwhelming, and we are here to support you in every phase of your care. Your care team and our Global Health Care Services team work closely to ensure you are receiving the care and support you need, whether related to your cancer treatment or otherwise. Our nurse navigators will help guide you through your health care journey and answer any questions you may have during the process. We see patients from a diverse array of countries and cultures, so we understand the concerns you are likely to have during treatment and beyond. Plus, our spiritual care team offers prayer, services and support to followers of many religions. Our warm, caring environment helps to ease some of the stress that can accompany cancer treatment, which allows you to focus on getting well.
Our Cancer Services
We offer a full range of cancer services, including:
Cancer treatment, such as chemotherapy, hormone therapy, immunotherapy (using the body's own immune system to attack cancerous cells), radiation therapy and surgery
Genetic testing to determine family risk for certain types of cancer
Reconstructive surgery after cancer treatment
Our doctors treat many types of cancer, such as:
Bladder cancer
Bone and soft-tissue cancers (orthopedic oncology)
Brain tumors
Breast cancer
Cervical cancer
Colorectal cancer (also known as colon cancer)
Esophageal cancer
Eye cancer
Head and neck cancers, such as oral (lip, tongue and mouth), laryngeal (voice box/vocal cords), pharyngeal (throat) and thyroid cancers
Kidney cancer
Leukemia and lymphoma
Liver cancer
Lung cancer
Ovarian cancer
Pancreatic cancer
Prostate cancer
Skin cancer
Stomach cancer
Testicular cancer
Uterine cancer
Vaginal and vulvar cancers
When it is time for you to return home, we will work closely with your referring doctor in your home country to ensure you experience a smooth transition of your care. We will also work with you to make sure you have the skills and confidence to take care of yourself, and we will check on your progress regularly. Depending on your treatment plan, you may need to return to Houston Methodist periodically for follow-up care.
Take the Next Step for Your Cancer Care
Contact our Global Health Care Services team to arrange an appointment with one of our oncologists, or find out how to become our patient.
To learn more about Houston Methodist's cancer services, including treatment and support options, visit our English-only Cancer Center page.