Pulmonary Embolism Summit

Clinicians need to understand the challenges of diagnosis and treatment of patients with pulmonary embolism (PE) and chronic thromboembolic pulmonary hypertension (CTEPH). This one-and-a-half-day summit covers current advancements and care of patients.
Topics include:
Practical noninvasive diagnostic imaging techniques
Evaluation of risk and severity of patients with PE
The role of a multidisciplinary pulmonary embolism response team (PERT)
Appropriate treatment options, such as anticoagulation strategies, indications and techniques for lysis, and mechanical or surgical thrombectomy
Overview of the latest imaging-assisted techniques to diagnose and treat CTEPH
Current treatments for CTEPH, including pulmonary thromboendartertectomy, medical therapy and pulmonary balloon angioplasty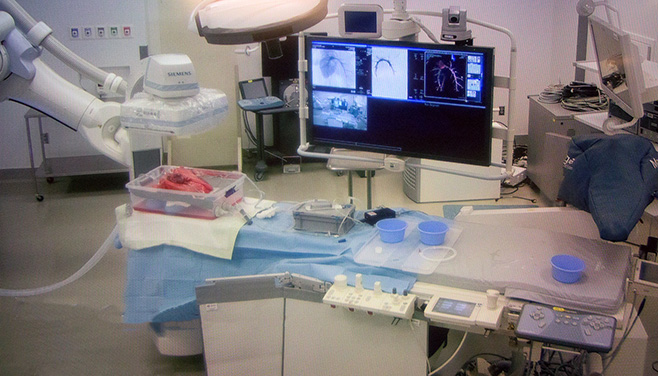 Participants will learn from leading PE and CTEPH experts through didactic lectures, case presentations and discussions. The summit concludes with a half day of hands-on training at the state-of-the-art Houston Methodist Institute for Technology, Innovation & Education (MITIESM), where attendees can hone their skills workshops such as:
Thrombus removal of pulmonary emboli
Catheterization for DVT
Acute pulmonary embolism sub-xiphoid approach to right ventricle (cadaveric models)
Ultrasound-enhanced thrombolysis
Cone beam for acute pulmonary embolism—making a diagnosis in the hybrid room
Target Audience
Cardiologists, cardiovascular surgeons, anesthesiologists, internal medicine specialists, cardiovascular imaging technologists, critical care specialists, emergency department physicians, hospitalists, pharmacists, pulmonologists, radiologists, fellows, residents, physician assistants and nurse practitioners in the cardiovascular specialties will benefit from this summit.
Learning Objectives
Upon completion of hands-on training, the participant should be able to:
Discuss current advancements and care of patients with PE and CTEPH
List the latest imaging-assisted techniques to diagnose and treat CTEPH
Evaluate the risk and severity of patients with PE
Describe the role of a multidisciplinary PERT
Upcoming Events
2019 Program
The Pulmonary Embolism Summit will be held on October 11, 2019, at the Houston Methodist Institute for Technology, Innovation & Education (MITIESM). Please see the event registration page for more details
Houston Methodist Institute for Technology, Innovation & Education (
MITIESM
)
6670 Bertner Ave., 5th Floor
Houston, TX 77030