Fundamentals of Transradial Access & Intervention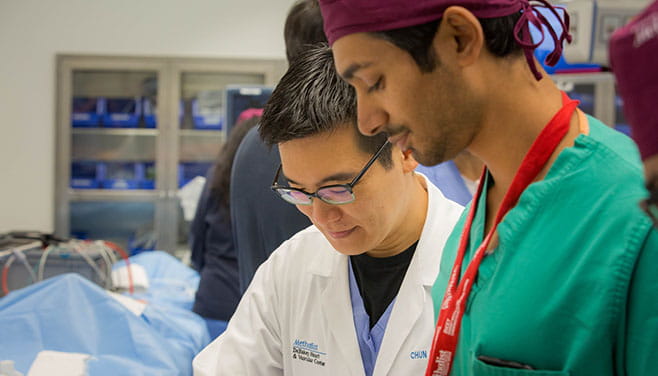 Transradial access is an appealing alternative to transfemoral techniques for coronary interventions with the potential for decreased bleeding, faster healing, fewer complications and lower costs. Despite these benefits, transradial approaches are underused, partially due to the steep learning curve.
This course is designed for interventional cardiologists seeking to hone their skills in transradial access and intervention. Attendees will learn from Houston Methodist's world-class faculty through a live case presentation, didactic lectures and hands-on skills training in the state-of-the-art Houston Methodist Institute for Technology, Innovation & Education (MITIESM). Join us for a full day of interactive learning to gain valuable percutaneous intervention tips and tricks and the skills to manage complications.
Target Audience
Interventional cardiologists will benefit from this course.
upcoming events
2020 Program
The date of the next Transradial Access & Intervention course has not yet been announced. Please check back for more details.
Houston Methodist Institute for Technology, Innovation & Education (
MITIESM
)
6670 Bertner Ave., 5th Floor
Houston, TX 77030