Cardiac magnetic resonance (CMR) imaging is a unique imaging modality that is used in diagnosing—and subsequently managing—cardiovascular diseases in patients. CMR provides a robust, noninvasive means of assessing myocardial function, viability and morphology. Additionally, it can be useful in assessing valvular heart disease, cardiac tumors and the vascular system. This technology holds tremendous promise in evaluating and treating cardiovascular diseases.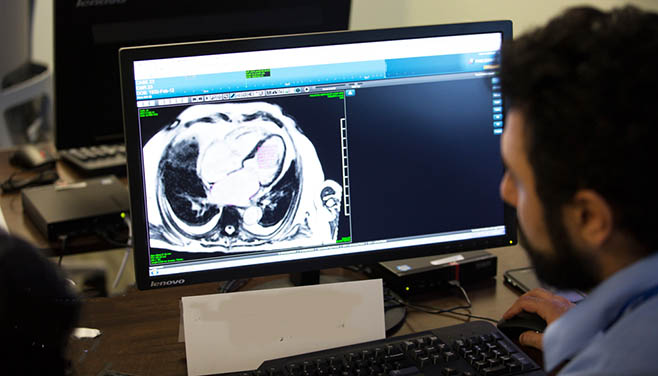 CMR is a robust, complex technology with a steep learning curve. As a result, there are currently few centers performing CMR in routine clinical practice. This week-long workshop covers the practical applications of cardiac MRI, including basic MRI principles, cardiac anatomy, late gadolinium enhancement, stress imaging, vascular imaging, case interpretations and troubleshooting image acquisitions. This program emphasizes the development of practical skills and knowledge, so it is limited to small groups to facilitate lectures and hands-on experiences.
Target Audience
Cardiologists, radiologists and MRI technologists will benefit from this course.
Learning Objectives
Attendees can expect to review up to 50 clinical CMR cases during the workshop. Upon completion of this workshop, the participant should be able to:
Apply the basics of MRI physics to CMR
Demonstrate the appropriate use of CMR for cardiac/vascular imaging
Describe assessment and principles of vascular imaging
Demonstrate knowledge of case interpretations
State the appropriate use of stress imaging
Upcoming Events
2022 Workshop
Registration for the Houston Methodist Cardiac MRI Workshop - Fall 2022 is open. Please use the link below to register.
Houston Methodist Research Institute
6670 Bertner Ave., 2nd Floor
Houston, TX 77030