DeBakey Institute for Cardiovascular Education & Training
Building on Dr. Michael E. DeBakey's commitment to excellence in education, Houston Methodist's DeBakey Institute for Cardiovascular Education & Training (DICET) is an epicenter for cardiovascular academic and clinical educational programs that support the provision of optimal care to patients suffering from cardiovascular conditions and diseases.
Adult Congenital Heart Symposium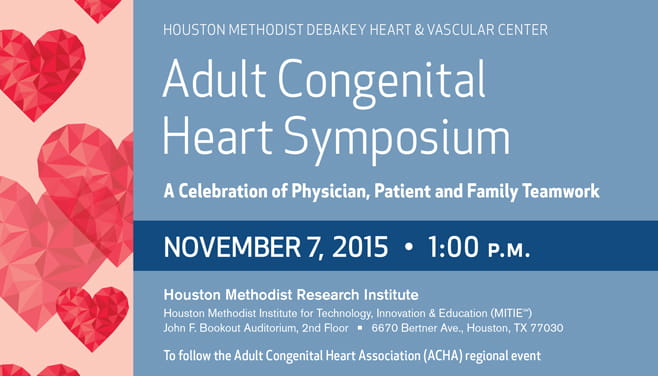 This exciting educational program for physicians and patients, focuses on advancements in treatment and management of adult congenital heart disease. Learn more >

Skills Academy
The DICET Skills Academy is a collection of hands-on educational workshops for cardiovascular professionals, primarily offered in the
MITIE

SM

virtual hospital
. The Skills Academy serves a wide spectrum of health care providers, including medical students, nurses, allied health care providers and physicians of all levels of experience who want to learn new cardiovascular procedures and techniques.
The hands-on training provided by the Skills Academy consists of courses that are customized to the needs of the learner. A variety of models and simulators are used to teach numerous techniques in the vascular, cardiothoracic and cardiology arenas.
Vascular Workshops
Lower extremity artery exposures
Upper extremity arterial exposures
Carotid techniques
Dialysis access
Thoracic aortic exposures
Visceral/renal techniques
Venous access
Vascular access
IVC filter implantation and retrieval
Placement of tunnel catheters, laparoscopic peritoneal dialysis catheter placement
Cardiothoracic Workshops
MICS CABG - Sternal sparing exposure, LIMA harvest, aortic proximal techniques, multi-vessel bypass
Robotic LIMA takedown, CABG techniques, TECAB with anastomotic devices
MICS cannulation and instruments
Mitral valve: MICS mitral exposure and MICS mitral repair
Aortic valve - MICS aortic exposure and MICS aortic valve replacement (AVR)
Mini-thoracotomy and mini-sternotomy
Transcatheter AVR
3-D acquisition
Hybrid operative procedures
Echocardiography for cardiac surgeons
Cardiology Workshops
3-D echocardiography and 2-D/Doppler quantitation
TEE/TTE simulation
2D/Doppler quantitation of cardiac chamber volumes
Quantitative measurement of LV function and flows
CT coronary angiography and calcium score
Ventricular assist devices
Pacemaker/ICD programming
Pericardiocentesis
Hemodynamics
Basics of intervention
---
Didactic College
The DICET Didactic College is a collection of conferences and symposia such as the Cardiovascular Fellows Boot Camp, Multi-Modality Cardiovascular Imaging for the Clinician, the Re-Evolution Summit and a number of smaller conferences that occur throughout the year.
Weekly Series
Weekly Cardiology Fellows Board Review
Cardiology fellows prepare for boards and recertification using the DVD curriculum of the Mayo Clinic Cardiovascular Review Course for Cardiology Boards & Recertification. Lectures on state-of-the-art subjects in cardiovascular medicine are followed by question and answer sessions. Topics are selected by the chief cardiology fellow.
Multi-Modality (Echo/MRI/CT/Nuclear) Conference
This is a discussion and a presentation in real time about different imaging modalities. The director of the Cardiovascular Imaging Institute selects the topic.
Heart Valve Conference
Case discussions and literature review will be moderated by
Stephen Little, MD
. Physicians discuss current cases, diagnostic considerations and strategies, available treatment options and surgical intervention where appropriate.
Cardiology Fellows Research Conference
Discussion centers around recent randomized multicenter clinical trials published in the literature and is moderated by
Craig Pratt, MD
.
Vascular Surgery Conference
Vascular surgery faculty and fellows discuss vascular surgery case studies. Discussion is moderated by
Carlos Bechara, MD
.
Houston Methodist DeBakey Heart & Vascular Center Grand Rounds
During
grand rounds
, invited guest speakers present on topics in cardiology, cardiovascular surgery, vascular surgery and on various imaging modalities. Note to physicians: Houston Methodist designates this live activity for a maximum of 1.0 AMA PRA Category 1 Credit™.
Cardiac Electrophysiology Conference
A review of topics in electrophysiology will be presented by
Miguel Valderràbano, MD
, and Paul Schurmann, MD. The conference format varies, including discussion of interesting electrophysiology cases, discussion of how to interpret tracings and review of the literature.
Multidisciplinary Ischemic Heart Disease Conference
Discussion of current ischemic heart disease cases and review of the relevant literature are moderated by
Mahesh Ramchandani, MD
, and
Neal Kleiman, MD
. Physicians discuss the best treatments for patients.
Cardiac Catheterization Conference
This conference includes an explanation of the various invasive procedures performed in the Cardiac Catheterization Lab. Participants view images of diseased coronary arteries, peripheral artery disease, abnormalities in heart chambers and heart valves. There is a review of the normal anatomy and physiology of the coronary arteries. Topics are selected by
Neal Kleiman, MD
.
Cardiovascular Imaging Journal Club Conference
During journal club conferences, cardiovascular imaging fellows hold regular discussions about recently published articles in the Journal of the American College of Cardiology (JACC), the Journal of the American Society of Echocardiography (JASE), Circulation and Circulation Imaging. A faculty moderator,
Su Min Chang, MD
, is present during these discussions.
Conferences & Symposia
Pumps and Pipes
The solution to our problems most likely lies in someone else's toolbox; the challenge is in finding it. A significant problem in medical technology, and perhaps the energy business, is that developers are very inbred, exposed only to like-thinking individuals, which prevents innovation and the maturation of "out of the box" ideas. We believe that great benefit may be gained by exposing cardiovascular and imaging researchers to technology currently available in the aerospace field and in the oil and gas industry. We created this problem-focused forum to analyze issues relevant to the aerospace, energy and medical worlds, presenting and discussing with opposite industry counterparts, in an exploration of complementary technologies. For more information, visit
www.pumpsandpipes.com
Re-Evolution Summit
Cardiac surgery is undergoing a significant paradigm shift toward increasing minimal access surgery within all subspecialty areas of practice. These include interventions for cardiac valve repair, coronary revascularization, ablation of atrial fibrillation, aortic pathology and heart failure. Training in these minimally invasive techniques is important to better serve patients, improve outcomes and maintain a competitive advantage. The goal of this conference is to provide up-to-date evidence-based didactic lectures, along with expert-instructed hands-on exposure to the latest in all aspects of minimal access cardiac surgery with an emphasis on hybrid approaches.
Total Endovascular Series
Lower extremity arterial occlusive disease leading to rest pain and tissue loss continues to increase; the need for education and training in limb salvage is apparent. As a result of the recognition of the need for effective and rapid response to lower extremity critical limb ischemia, limb salvage programs have been developed to offer a multidisciplinary, multimodality approach to the treatment of these patients. The primary goal of these programs is appropriate and rational interventions in the affected limb, coupled with remediation of the cardiovascular risk present in these patients. This symposium is designed to outline the current approaches to the care of the patient needing limb salvage, including systemic risk factor modification, advanced endoluminal and open intervention, advanced wound care, care of special at-risk groups, and the new frontier of gene and cell therapy to allow for distal vascular recovery in the patient with no other treatment options.
Southwest Valve Summit
This Heart Valve Summit on the River is designed to highlight case-based decision making for the accurate diagnosis and effective treatment of heart valve disorders. With an emphasis on functional anatomy, imaging innovation and percutaneous valve interventions, this course will engage and educate cardiologists, cardiovascular surgeons, anesthesiologists, nurse practitioners, internal medicine specialists and fellows in training. This interdisciplinary summit will combine short presentations, debates and an ask-the-expert live valve conference to expose participants to the most relevant medical, surgical and interventional options for contemporary patient care. The topics, cases and discussions will include both accepted and controversial treatment paradigms and will offer novel perspectives and recommendations to all members of the heart valve team.
Managing Cardiovascular Emergencies
EMS professionals receive training on evaluating and treating patients with life threatening cardiovascular diseases, including those awaiting cardiac transplant while being assisted by a ventricular assist device (VAD).
Cardiovascular MRI
Associated with its robust nature, cardiovascular MRI (CMR) is a very complex technology with a steep learning curve. As a result, there are currently few centers performing CMR in routine clinical practice. The Cardiovascular MRI Workshop is a weeklong program that covers the practical applications of cardiac MRI. Topics include basic MRI principles, cardiac anatomy, late gadolinium enhancement, stress imaging, vascular imaging, case interpretations and troubleshooting of image acquisitions.
Multimodality Cardiovascular Imaging
Knowledge of various imaging modalities is critical to understanding their advantages, limitations and appropriate utilization in patients with ischemic heart disease, heart failure, atrial fibrillation, cardiomyopathy, masses, valvular disease and aortic disease. This symposium offers the opportunity, in addition to didactic lectures by world experts, to have small group tutorials in each imaging modality, and hands-on experience with heart specimens to better visualize and understand cardiac and valvular structure and enhance correlations with cardiac imaging.
Save a Life
This is a community initiative for hands-on CPR training.
Transcranial Imaging Center
The Transcranial Imaging Center has a continued commitment to education in cerebrovascular ultrasound techniques. Individualized training courses in transcranial Doppler, transcranial duplex imaging and carotid duplex studies are offered in either a five-day (weekdays) or a two-day (weekend) format. The courses are directed toward physicians involved in caring for patients with stroke (neurologists, neurosurgeons, vascular surgeons and neurointensivists) and vascular technologists and other health professionals who need training in vascular ultrasound technology.
Vascular Surgical Training Association of Houston (VaSTAH)
Vascular surgery residents and fellows from the Houston area can attend these monthly didactic and hands-on workshops. A morning didactic session focused on a single vascular bed is followed by hands-on rotations pertaining to surgical techniques based on that vascular bed, while working through various stations in MITIE.
---
DICET Online
DICET Online is a web-based platform that provides regularly updated electronic cardiovascular educational materials to health care professionals, including electronic courses, presentations, lectures and videos. The educational information can be broadcast anywhere via webcasts, further supporting the training efforts of the Skills Academy and the Didactic College. DICET online is currently available as a resource for internal Houston Methodist physicians, residents and fellows, and will be open to the broader heart and vascular community soon. For more information, contact
dicet@houstonmethodist.org
.