Hematology-Oncology Fellowship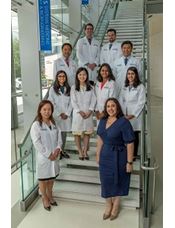 The Houston Methodist Hematology-Oncology Fellowship is an ACGME-accredited program designed to shape future leaders in hematology and oncology through comprehensive education and intensive training in clinical practice and research. The three-year program fully integrates the ACGME core competencies and milestones through a required set of rotations, a didactic curriculum and elective rotations designed to broaden the base of knowledge. Located in the Texas Medical Center, we have exposure to a diverse patient population. All training takes place within the Houston Methodist Hospital ranked as number one hospital in Texas and connected facilities in the Texas Medical Center.
We recognize that next generations of competent hematologists and oncologists need to be fortified with diverse range of knowledge and competencies, including cancer prevention, clinical cancer genetics, health policy, cost-effective evidence-based patient care, along with translational and clinical research experience. Our fellows are given the structure and supervision required to ensure that each are well-trained, competent hematologists and oncologists, and are given guidance and mentorship to realize their individual professional goals and aspirations.
Program Director and Program Leadership
The program director, Jun Zhang, MD, assistant professor of clinical medicine at Weill Cornell Medical College. Dr. Zhang earned her medical degree from Hunan Medical University in China. She completed internal medicine residency training at New Hanover Medical Center at Wilmington NC, and fellowship training at Brody School of Medicine, East Carolina University at Greenville, NC. She held a faculty appointment at Baylor College of Medicine before joining the Houston Methodist Dr. Mary and Ron Neal Cancer Center in 2018. She is interested in thoracic oncology and head & neck cancer clinical research. Dr. Zhang enjoys teaching medical students, residents, and fellows.
The program leadership, comprised of all executive fellowship hematology-oncology faculty and the program director, provide continual oversight of the program and its trainees.


---
Program Coordinator
Program Director
Sandra Soliz
Hematology/Medical Oncology Fellowship Program Coordinator
6445 Main St., OPC 24-316
Houston, TX 77030
srsoliz@houstonmethodist.org
Program Director
Jun Zhang, MD
Houston Methodist Dr. Mary and Ron Neal Cancer Center
6445 Fannin, OPC-24
Houston, Texas 77030